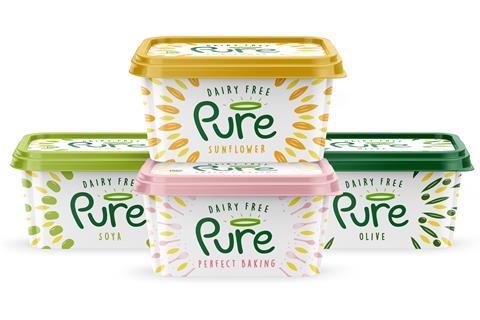 Kerry Foods has revamped its Pure dairy-free spreads brand and expanded the range with a new baking product.
Featuring colourful 'bursts' to showcase each product's hero ingredient or purpose, and a green halo over the logo, the free-from brand's new look was created to better reflect its "pure and simple" dairy-free credentials, Kerry said.
The new packaging will roll out during the course of August, with retailers including Sainsbury's, Morrison's, Waitrose, Asda and Ocado supporting the relaunch with £1 promotions throughout August and September.
Pure's new Perfect Baking variant launched into Waitrose and Ocado at the end of last month.
Adding to its core range of sunflower, olive and soya spreads, the product has a higher fat content to allow bakers to "achieve the kind of results previously only possible from dairy products", said senior category manager Jessica Hamilton.
"This meets an unmet consumer need and plays on the trend towards vegan and dairy-free," she added.
"Pure performs well and has a loyal following amongst dairy-free shoppers who trust in our heritage and the simplicity of our ingredients. Pure spreads appeal to those following a strict dairy-free diet as well as those wanting to make healthier choices."