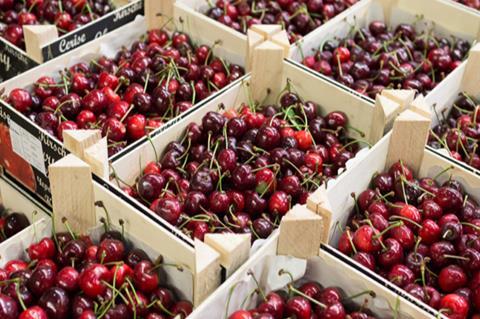 British cherry growers have hailed their biggest crop for a decade as harvest volumes increased by 62% year on year.
A harvest of 5,228 tonnes was recorded this year, compared with 3,233 tonnes in 2018.
The increase was due to new acreage coming into operation after a "sustained period of investment in planting" in key growing areas in England and Scotland.
Tonnages are now expected to grow in the next two to three years, with British Cherries aiming to hit 10,000 tonnes. "The season was so successful because growers were able to produce a high volume and a good quality crop of cherries," said British Cherries spokesman Matt Hancock.
"[This] in turn led to increased cherry promotions from retailers and therefore, higher consumer demand and sales."
According to Hancock, a combination of factors in recent years have extended the season from three to ten weeks, including better "geographical planting" strategies and technological innovations like the use of sunlight-manipulating coloured plastics to either bring forward or delay crops.
As reported in The Grocer last month, migrant labour shortages have blighted the growing industry costing some growers "six-figure sums".
However, Hancock said British cherries had been shielded from a lack of migrant workers thanks to the cherries being an early summer crop.