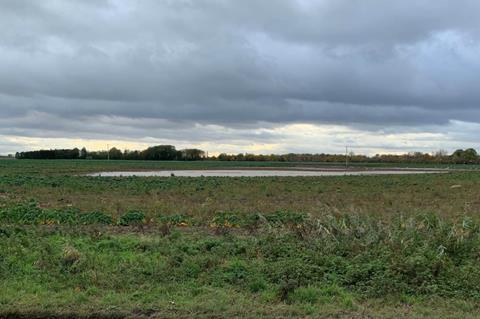 Growers have warned there could be shortages of a raft of winter crops after heavy rainfall deluged key growing areas across the east of England.
Preliminary Met Office data for October showed Lincolnshire and much of both East and West Yorkshire had been hit by rainfall more than double the long-term average [based on data between 1961-90]. Last week, parts of northern England endured a month's worth of rain in just 24 hours.
While the immediate implications for most crops remained unclear, farmers were warning this week of knock-on effects that could hamper harvests well into the new year.
"We should be drilling. We haven't been able to drill at all," said chair of AHDB field vegetable panel Martin Evans, who farms in north Nottinghamshire.
"Normally, we would plant just over 100 acres of carrots over winter, but we haven't got any in. They would then be ready for harvest early next June. [Cereal crop farmers] have missed the window for spring barley, rape crops and winter wheat. "People are already incurring costs they won't recover."
Evans added that the wet conditions meant UK could find itself at a "weak moment" in terms of homegrown vegetable supply when the UK was due to leave the EU at the end of January.
Potatoes
Potatoes, which are largely grown in eastern areas of the UK, have been particularly affected by the wet weather.
According to NFU potato forum chair Alex Godfrey, about 30% of the crop is still in the ground, which he described as "quite significant" for this time of year.
"We could still have a nice, dry period up to Christmas and we'll get through it," he said. "But it's getting harder.
"I've heard people living in heavier soil areas saying their plan is now to leave land fallow for the next 12 months. There are other areas where, if [the rain] drains off, then after Christmas it shouldn't have suffered too much long-term damage," he added.
"I suspect everybody is struggling," said British Growers Association CEO Jack Ward. "It doesn't matter what you're doing – whether you're planting wheat, digging potatoes, lifting cabbages – it's just a nightmare for everybody. I think people are resigned to the fact it's going to be a horror autumn."
Political flashpoint
The floods have become the latest flashpoint in the ongoing general election campaign, with Labour leader Jeremy Corbyn criticising prime minister Boris Johnson for not declaring a national emergency.
Johnson called a meeting of the government's emergency committee Cobra on Tuesday, which led to the announcement of a £2,500 recovery grant for individual businesses and the deployment of 100 armed forces personnel to affected areas.
The next government needed to take "all the steps necessary to protect productive farmland", said NFU president Minette Batters, including investing in the upkeep of existing flood defences.