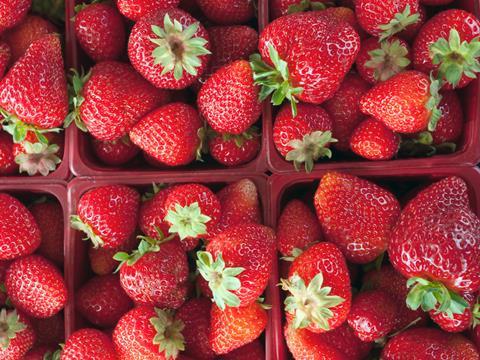 Next year's crop of British-grown strawberries could be under threat if lorry queues at ports become too long, industry figures have warned.
According to British Summer Fruits, of the 100 million plants used to grow strawberry crops in the UK each year, 95% are currently brought in on lorries from continental Europe, with the remainder grown domestically.
While, like other food-related imports, live plants will not be subjected to customs checks until mid-2021, there are fears they could get caught up in lorry queues regardless of whether the UK secures a post-Brexit trade deal with the EU.
If queues grew to the point where lorry loads were held up for two days or more it could lead to "serious risk of a significant impact" for growers, according to British Summer Fruits chairman, Nick Marston.
"We're almost totally reliant on mainland Europe for live plant supply," Marston said.
"In terms of plants coming this way, any hold up of more than a couple of days would definitely be highly detrimental to the quality of the plant material. Depending on the plants and the delay, it could mean they're dead on receipt or not commercially viable."
Marston added that any delays could threaten the availability of lorries and increase transport costs as hauliers would be "potentially reluctant" to send vehicles to the UK in case they were held up by queues on their return to the continent.
His words were echoed by a leading fresh fruit supplier, which suggested to The Grocer its timings for live plant imports were even tighter than Marston suggested, with plants needing to get from propagator to field in the space of two to three days.
"Some plants can cope with being on a lorry for a period of time but some of them just can't. You can just imagine the scenario with loads of them stuck in a port somewhere. I'm more worried about that than fruit. I think fruit will flow [into the UK]."
Strawberries were said to be particularly vulnerable, but The Grocer understands other berry types face a similar predicament. Apple trees are another significant import from the continent but they are not thought to face as much demand in the short term.
The UK also imports a lot of vegetable seed from the EU. While such seeds were unlikely to be impacted by delays, according to the British Growers Association, they are particularly exposed to the outcome of Brexit.
The industry body's CEO Jack Ward said a no deal scenario could see importers having to pay tariffs of "about 10 per cent" and face the added costs caused by any hold-ups. While he said these would not be prohibitive, he added that it would add significant cost to what is already "an expensive input".
Ward cited the example of pea growers, who he said have been importing as much seed into the UK as possible before the 31 December deadline.