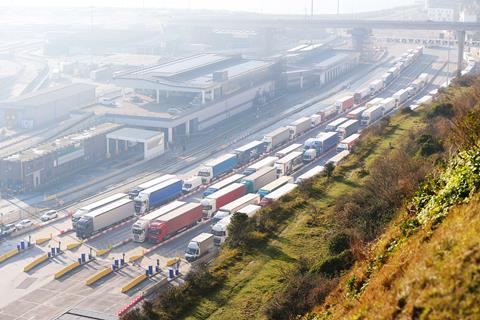 Food meant for British supermarkets is becoming trapped in Europe as shipping lines refuse to release goods for transport back to the UK.
Numerous shipping lines have begun circumventing Felixstowe port and heading straight to Europe in order to avoid the worst of the disruption caused by increased import volumes and a lack of empty shipping containers.
Food businesses are now reporting their goods have become stuck in Dutch ports, with shipping lines insisting the food must still be shipped to Felixstowe as intended rather than be released to a lorry to drive it to the UK.
"We've been a week now trying to sort out documents on two containers of ginger stuck in Zeebrugge that we can't get trucked back to the UK because the shipping line is determined to sea-freight them back to Felixstowe," said Steve Swain, business unit director at Minor, Weir and Willis.
The goods could have been driven across to the UK within 12 hours, explained Swain, but the paperwork required to change the port of destination can take days. "It's maddening, but alongside all of the chaos of Felixstowe, we're now in the middle of a load of bureaucracy as well."
For some small suppliers, the diversions into Europe are costing "hundreds of thousands of pounds a month", said Dominic Goudie, head of international trade at the FDF, with the impacts now having a material effect on their ability to prepare for next year.
Supermarkets are also facing similar difficulties, with some reporting increased shipping costs of 25% week on week. They are urging the government to act. BRC director of food & sustainability Andrew Opie has written to transport secretary Grant Shapps to urge him to "take all action possible to clear the logjam" and allow goods to flow seamlessly into the UK.
He added: "While these rates continue to rise, and the disruption at ports and in shipping continues, retailers face significant challenges with the import of some items ahead of Christmas."
Richard Ballantyne, CEO of the British Ports Association, said the issues were "cascading" beyond container ports, with delays at lorry ports now increasingly common. "I think all the RoRo [lorry] ports on the east coast are certainly seeing increased activity," he said.
Tesco chairman John Allan confirmed this week that the retailer was stockpiling ambient food to mitigate disruption. Tesco and Asda have both previously said they will look to spread their European imports around UK ports next year to avoid the worst of the disruption at Dover.
French media reported significant queues at Calais this week due to increased traffic entering the UK.