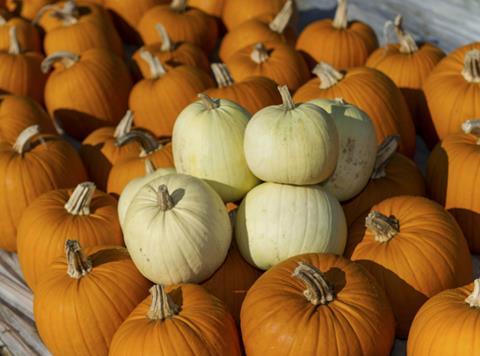 Waitrose has added white 'ghost' pumpkins to its vegetable aisle to be used as a Halloween decoration.

Grown in West Sussex, the "eerie" veg is derived from the standard orange type but has metamorphosed into a lighter colour. The product's pale hue is expected by the retailer to be popular with those looking for "unusual" ways to decorate for the season (rsp: £3).

The new variety is available in selected Waitrose stores alongside the returning gourd pumpkins, which are nobbly and misshapen.

Consumers had been preparing for Halloween earlier this year, according to the retailer, with sales of pumpkins up 13% compared with this time last year.

"Halloween is now the third most popular celebration behind Christmas and Easter, with shoppers set to embrace it more than ever before," said Gary Grace, Waitrose pumpkin buyer.
"The ghoulish appearance of ghost pumpkins will certainly raise a few eyebrows at parties and we hope shoppers will get creative in carving them with their own spooky designs," he added.