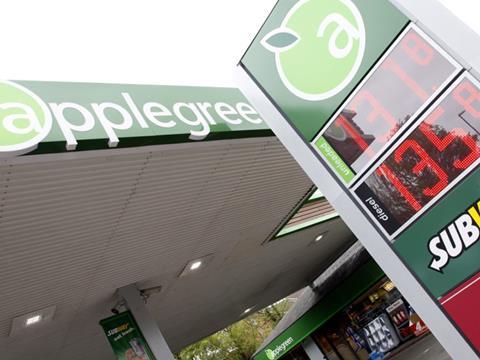 Petrol forecourt operator Applegreen has unveiled plans for the first Irish retail flotation since the onset of the recession.
The group, which runs more than 150 sites across the UK and Ireland and employs 2,200 staff, is hoping to raise €70 (£50m) from the dual listing on London and Dublin's junior markets in a move which could value it at about a reported €300m (£213m).
CEO Bob Etchingham said the IPO would provide an "important platform" to pursue Applegreen's long-term growth strategy.
Applegreen plans to use the funds from the AIM and ESM listing to upgrade and rebrand 70 of its sites and accelerate the opening rate of its forecourt expansion from the current 20 a year. It will also look at growing across the US, where it currently has two sites in Long Island.
"We believe there are significant opportunities for expansion across the Republic of Ireland and the UK," Etchingham added.
"The group is well positioned to benefit from recovering economic growth and increased disposable income in the Republic of Ireland and the UK, as well as favourable market trends as the oil majors exit the forecourt market."
Applegreen's motorway operations include retail concessions for Burger King, Subway and Costa Coffee, as well recent additions including Greggs, Chopstix and Lavazza. It currently holds a motor fuel market share of about 12% in Ireland with 96 sites, alongside the 54 it operates in the UK and two in Long Island in the US.
In the year to 31 December 2014, the group had revenues of €937.3m and EBITDA of €23.4m.
Daniel Kitchen has joined the board as non-executive chairman. He is currently non-executive chairman of Workspace Group and Hibernia REIT, a non-executive director of LXB Retail Properties and a director of the Irish Takeover Panel.
"I have been hugely impressed with the ambition and expertise of the senior management team, who have grown the business significantly during tough economic conditions, positioning the group for further strong growth."
It is expected Applegreen will start trading its shares on AIM and ESM in the second half of June.