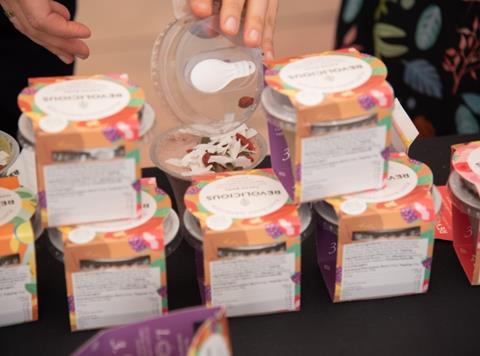 Three British food and drink brands have been named as finalists in PepsiCo's health & wellness incubator programme, the Nutrition Greenhouse.
London-based brands Nibble Protein and Revolicious, and Oxfordshire based Rokit Pods, as well as seven other international brands, are now set to compete in the next stage of the programme. They will each receive an initial €20,000 grant, as well as a "dedicated schedule of in-person workshops and virtual training", with the company that can demonstrate "the most scalable and sustainable market approach" to be awarded a €100,000 prize to boost its expansion.
Nibble Protein makes high-protein gluten and dairy-free bites aimed at vegans and diabetics, while Revolicious makes ready-to-eat dairy and gluten-free smoothie bowls. Rokit Pods makes organic, vegan drinks capsules that are compatible with a range of coffee machines.
Other finalists include Spanish cereal maker Agrasys, which makes its products with a combination of durum wheat and wild barley, Israeli dairy alternatives brand Yofix, and French organic snack makers Gryö.
The initiative was "important for PepsiCo, as we continue to build on our 20-year-plus legacy of anticipating and adapting to changes in the way consumers view nutrition and health and wellness", said PepsiCo Europe & Sub-Saharan Africa senior director of innovation David Schwartz.
Last year's competition was won by British whole food startup Erbology, which makes plant-based products such as oils, shots, crackers and energy balls, after it achieved more than 400% growth over the course of the six-month programme, seeing off competition from the likes of Fit Kitchen and Tapped Birch Water.