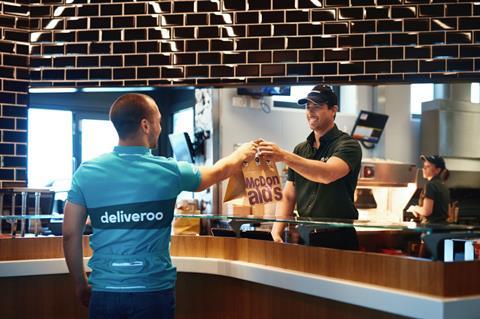 Top story
Deliveroo has announced that Amazon is the lead investor in a $575m (£450m) fundraising round the enable it to accelerate growth.
Amazon is leading the new 'series G' preferred shared funding drive, alongside existing Deliveroo investors T Rowe Price, Fidelity Management and Research Company and Greenoaks.
Amazon has previously been reported to have held takeover talks with Deliveroo last year, while Deliveroo has also been linked with recently listed vehicle hire giant Uber.
Deliveroo said the funds will be used expanding the company's tech team at its UK Headquarters, expand further to reach new customers, and continue innovating through its delivery-only super kitchens.
In addition, it is looking to build "new formats that will help restaurants expand to new areas at a lower cost and lower risk, bringing more choice to local neighbourhoods".
Deliveroo also pledged to develop new products for customers to offer a "more personalised experience", increased support for restaurant partners, and new tools to offer its riders "flexible and well-paid work".
Will Shu, founder and CEO of Deliveroo, said: "This new investment will help Deliveroo to grow and to offer customers even more choice, tailored to their personal tastes, offer restaurants greater opportunities to grow and expand their businesses, and to create more flexible, well-paid work for riders.
"Amazon has been an inspiration to me personally and to the company, and we look forward to working with such a customer-obsessed organisation.
"This is great news for the tech and restaurant sectors, and it will help to create jobs in all of the countries in which we operate."
Doug Gurr, Amazon UK Country manager, commented: "We're impressed with Deliveroo's approach, and their dedication to providing customers with an ever increasing selection of great restaurants along with convenient delivery options.
"Will and his team have built an innovative technology and service, and we're excited to see what they do next."
Morning update
Check out this week's edition of The Grocer for the latest in the collapse and rescue of crowdfunding brewery Redchurch, which had been backed by around £900m of crowdfunded cash, as well as an exclusive on the international growth plans of Lily's Kitchen, how Brexit chaos dampened first quarter deal volumes and more.
Click on thegrocer.co.uk/finance later this morning for full details on these stories and more.
On the markets this morning, the FTSE 100 has fallen back 0.3% so far today to 7,333.8pts.
Early risers include PureCircle (PURE), up 2.9% to 284p, McBride (MCB), up 1.5% to 86.7p and Stock Spirits Group (STCK), up 1.5% to 231.9p.
A number of digital delivery specialists have fallen back on the news of Amazon's involvement with Deliveroo, including a 7.7% share price slump for rival Just Eat, while Ocado (OCDO) is down 1.3% to 1,248p and its partner Marks & Spencer (MKS) is down 1.4% to 262.6p.
Other fallers include Greggs (GRG), down 2% to 2,016p after its share price surge this week, Hilton Food Group (HFG), down 1.8% to 1,012p, Majestic Wine (WINE), down 1.4% to 247.5p and DS Smith (SMDS), down 1.4% to 326.9p.
Yesterday in the City
The FTSE 100 was back up 0.8% to 7,353.5pts yesterday to continue to regain some of the lost ground over the past month.
Walmart ended the day up 1.4% at $101.31 as its first quarter sales and earnings beat analyst expectations – the shares had been up by more than 3% in early trading in New York.
Nestle shares broke through the CHF100 mark for the first time in their history yesterday, rising 1.8% to CHF100.42 on the back of the agreement to sell its skin health business for CHF10.2bn.
In the UK, the supermarkets has a tough day, with Morrisons (MRW) down 1.7% to 211.1p, Tesco (TSCO) down 1.6% to 239.8p and Sainsbury's (SBRY) down 1.6% to 203.8p.
Marks & Spencer (MKS) also fell 3% to 266.3p and Ocado (OCDO) fell 0.9% to 1,265p, while other fallers included Majestic Wine (WINE), down 1.4% to 251.5p and Bakkavor (BAKK), down 1.1% to 124.6p.
Yesterday's risers included AG Barr (BAG), up 3.1% to 902p, WH Smith (SMWH), up 2.1% to 2,076p, Devro (DVO), up 1.9% to 215p, Unilever (ULVR), up 1.8% to 4,775p, Coca-Cola HBC (CCH), up 1.7% to 2,842p and Marston's (MARS), up 1.5% to 106.8p.