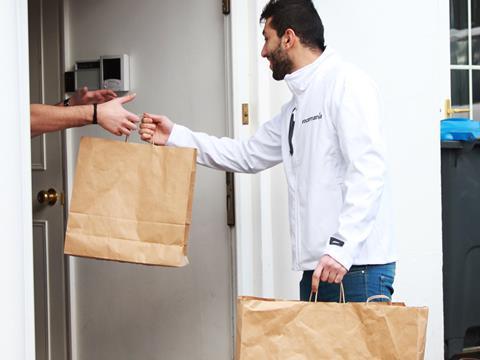 On-demand grocery delivery app Grocemania has hit its £100,000 crowdfunding target as it readies an expansion into more UK cities.
The rapid delivery service, which launched in 2016 and delivers in minutes, is already in London, Brighton, Nottingham and Bristol. There, it delivers from more than 115 retailers across the Nisa, Londis, Budgens, Costcutter and Spar estates for a fee of £2.50.
Grocemania plans to use the funds raised on the Seedrs platform to market the brand as it launches in Birmingham, Manchester, Liverpool, Leeds and Oxford.
The startup has also partnered with Unilever to support its DTC expansion and PepsiCo to launch marketing initiatives selling Walkers and Doritos to football fans during this season's Champions League.
It also provides the two food giants with data analytics for performances in the indie sector.
The latest Seedrs pitch follows an initial £80,000 raise on the platform in 2019.MD Askar Bulegenov said the money would be used to "aggressively" promote the service as the business scales up.
"As we unlock new revenue streams the business will be able to lower the pricing for our delivery product for the end users," he added.
"We are very grateful to everyone who has supported us throughout 2020 and during the recent Seedrs round and ready to demonstrate a lot of improvements and USPs for both customers and businesses in the next six months."