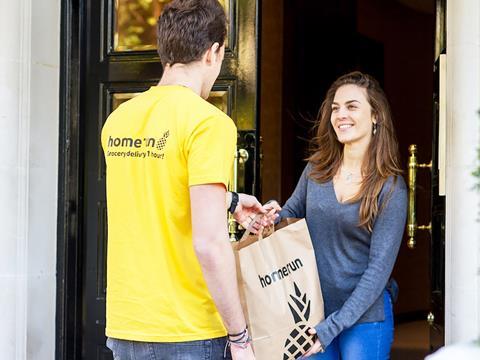 One-hour grocery delivery service Home Run is launching a £500k crowdfunding campaign to expand from London into the rest of the UK and Europe.

The business aims to "combat Amazon" by offering any grocer in Europe the ability to operate a home delivery service under its own branding.

Grocer partners are to be provided with Home Run's software technology under licence, including an online order and payment platform branded as the retailer, as well as a delivery operation.

Home Run currently delivers to 15 London postcode areas, or 36,000 individual postcodes, for branches of Tesco, Whole Foods, Marks & Spencer and Waitrose.

Contracted pickers collect the orders from stores, letting customers know of any substitutions via a smartphone app. The orders are then delivered by contracted drivers who use another Home Run smartphone app to optimise route efficiency.

Orders are placed online via a Home Run branded website or iPhone app and customers can select any products from a store's entire range to arrive within the next hour or in a choice of one-hour slots over the next five days. The delivery charge is £6 on average, depending on the time requested and distance from store, plus a mark-up of 10-20% on shelf prices, depending on the product range.

The new service, called 'Powered by Home Run', will include a retailer-branded customer-facing iPhone app plus Home Run contracted pickers and drivers. An Android app is in development, according to a Home Run spokesman.
The campaign was launched this week with a page on Seedrs.com inviting people to 'pre-register' their interest by pledging a sum before being told the total amount sought or plans for the investment.

According to Home Run co-founder and CEO Takis Malavetas, the pledges had already exceeded the minimum £500k by today (30 May), giving Home Run the option of accepting funding above that target.

Those who pre-registered will be provided with further details on Friday (1 June) on a Seedrs page that will not be made publicly available until Monday (4 June).

Home Run launched in March 2016 as Convibo, short for convenience box, before changing its name in October last year. The business saw a 340% growth in revenues from year one to two, according to the spokesman.

He said the business was announcing "aggressive expansion plans to combat Amazon" by enabling grocers to launch their own delivery offering with "minimal capital expenditure" using Home Run's "extensive suite of proprietary technology".

"Now, these retailers can give their customers the same excellent service using Home Run's infrastructure but under their own brand," he added.

Malavetas said: "Fifty percent of the UK's customers would like to do their grocery shopping online, but only 5 percent actually do. This is because the current online grocery offering is too slow, too restrictive, and unprofitable. It does not yet suit customer demands.

"In order to address this need, Home Run has developed a platform that executes our vision of how grocery shopping should be in the 21st century. We are excited to welcome investors on our journey as we take Home Run into its next phase of development."