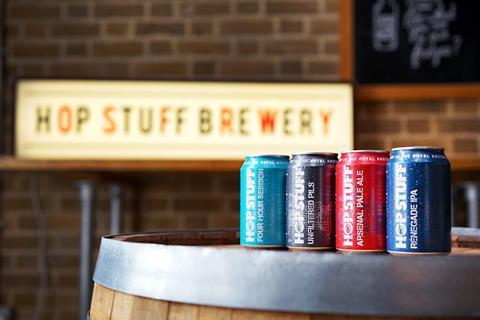 London craft brewer and crowdfunding darling Hop Stuff Brewery is exploring options – including a possible sale – to continue trading after it was forced to suspend its brewing activities due to pressure from HRMC and its landlord.
The brewer found itself shut out of its new brewhouse last week after its landlord foreclosed on the property in the midst of a dispute over rental arrears.
A statement from Hop Stuff this week explained it had run into cashflow problems earlier this year due to "an error at HRMC" which meant beer duty was being paid incorrectly from its old site.
Production was suspended for four weeks while the situation with HMRC was resolved, which "hit us hard", causing a £100k to £200k impact and meant "we were a little late in a rental payment", the statement explained. It added that the landlord required historic arrears, a new rental deposit and a quarter of forwards rent to end the dispute.
"Because of the loss of income we saw earlier in the year, and the typically slow season trading, we did not have the cash reserves to solve this immediately."
Hop Stuff has brought in accountancy giant KPMG to find a solution.
A number of options are being explored, including the sale of the company with the existing team remaining in place, and the recapitalisation of the business from existing shareholders and new investors.
The business hopes to have found a solution by next week and "remains positive we can achieve this."
The disruption has meant a loss of seven weeks' trading in the first 17 weeks of the year and will mean it fails to hits its expected £6.5m revenue target in 2019.
"With a larger capex reserve from a recapitalisation deal we can aggressively pursue rapid growth in the second half of 2019," the statement said.
Hop Stuff also stressed that outside these one-off issues it had grown sales by 200% in the first quarter.
In February last year Hop Stuff raised almost £800k in a crowdfunding campaign on Crowdcube that valued the company at £25m.
The fundraising drive, which was for an initial £400k, marked the third time the brewer has secured crowdfunding cash, having raised more than £1.5m since 2013. Last year Hop Stuff won new listings at Tesco and launched its Grapefruit New England IPA at the supermarket in April.