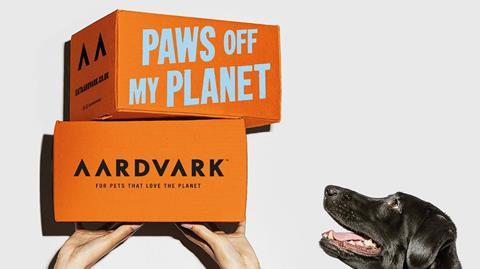 A startup producer of insect protein petfood has smashed its launch fundraising target as it prepares to make its first products.
Aardvark Petcare aims to "make pet ownership sustainable" by developing a range of foods for dogs and cats that uses insects as the protein source, starting with a range of dry kibbles set to launch in the autumn.
The brand had sought £50k on Crowdcube, valuing the company at just over £1m, but is currently overfunding, having raised more than £182k from 543 investors.
It will use the cash to fund the manufacturing and marketing of its kibbles, which will be launched via subscription and standalone DTC channels later this year.
However, founder and CEO Hugo Walters said the brand planned to move into petfood stores within eight months and supermarkets shortly after.
It is also in the process of developing insect-based wet cat and dogfood ranges, which Walters said would be a first for the UK market.
Rival Yora currently has a insect protein-based dry food range in the market, but Aardvark plans to compete on price.
Walters commented: "I believe we have to be priced competitively within the premium petfood category to gain a significant market share, but more than this I think everyone should have the ability to purchase sustainable products without being restricted by pricing."
It has developed its range with VC-backed insect protein specialist NextProtein, which recently closed a $11.2m Series A fundraising round.
Its branding has been developed alongside B&B studios, which has previously worked with fast-growth brands such as Bear and Pip & Nut.
The company's branding and proposition has a focus on millennial consumers, but it believes its message of sustainable pet ownership and environmental concern will resonate with all age demographics.
The brand has longer-term plans to expand into Europe in 2021 and the US by 2024.
"Increasing environmental concern, increased pet ownership and increased premiumisation, will help boost Aardvark sales in a world still affected by COVID-19, with a planned exit within 5-7 years through acquisition," the company stated.