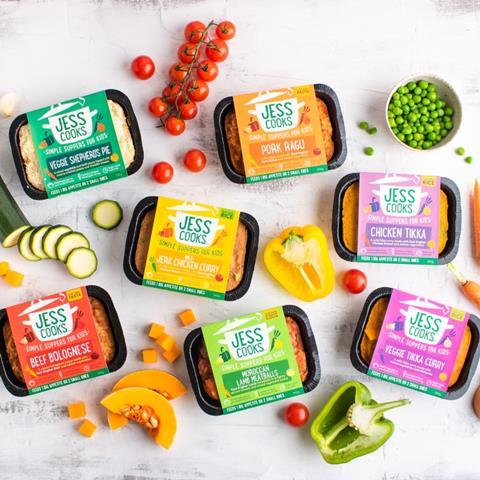 Children's frozen food start-up Jess Cooks has secured £100k in seed funding to scale the business and build nationwide retail distribution.
Jess Mackenzie founded the brand in 2019 using £5,000 of government start-up funding with the aim of disrupting the baby and toddler food market.
The range of frozen ready meals, which includes Moroccan lamb meatballs, mild jerk chicken curry and veggie shepherd's pie, are aimed at children aged four and above.
Mackenzie plans to use the money raised from three angel investor to increase distribution, raise brand awareness, build on the current D2C customer base and boost production capacity by moving to a new co-packer.
"As a busy working parent, all I had to fall back on on busy school nights was frozen junk food," she said.
"I didn't want to launch another range of ready meals, since I knew that wasn't what mums and dads really want. Instead, we've created a range of batch-cooked meal solutions, which can be adapted to suit big kids and small."
The group of three angel investors backing the business is headed up by Alan Christie, who has more than 30 years' experience in the fresh produce and food manufacturing sector.
"I was primarily attracted by Jess's strong ethical approach" Christie said.
"There is obviously a gap in the market, and Jess has been clear that her primary aim is to influence and improve the quality of food available to children, which I believe is a fantastic base to build a business on."
Despite being hit by the timing of the Covid pandemic, Jess Cooks won listings with East of England Co-op, launching a D2C platform and a secured a contract with a chain of nurseries.
Having previously manufactured the meals in-house, the business is in the process of transferring production over to a manufacturing partner to meet increased levels of demand.
"Childhood obesity is still a growing problem," Mackenzie added.
"Part of the problem is the mass availability of cheap, low-quality junk food, which is directly targeted at children. The new HFSS legislation will mean retailers and food producers will be under increasing pressure to help parents make better food choices for their children, by broadening the range of healthy food and drink options on offer."