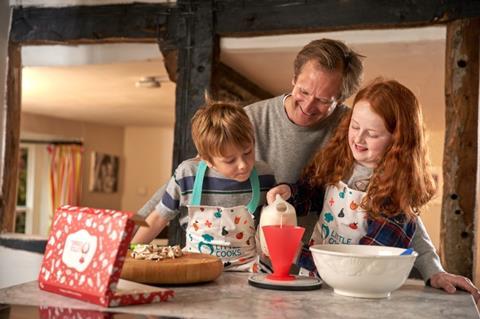 Children's cooking delivery service Little Cooks Co has kicked off a £750k fundraising drive ahead of trialling a 'HelloFresh for kids' concept.
The business, founded by Helen Burgess in 2017, will use the funds to grow beyond its monthly subscription boxes of home baking and cooking kits, which are designed to help children and parents engage with healthy eating.
Little Cooks will be trialling a new digital platform for daily recipe kits later this year, offering a full range of fresh products to help parents with meal planning, recipe inspiration and catering for fussy eaters.
The round on GrowthDeck, an equity crowdfunding platform aimed at high net-worth individual and investor networks, is being led by VC firm Velocity Capital Partners, which has backed Little Cooks from an early stage and is following on its investment with a further £250k.
Little Cooks' revenues reached £1m in 2021, but that is expected to rise to £14m by 2026/27 following the introduction of the new offer.
Jason Malone, former head of product for snack box brand Graze, was drafted in by the business last year to lead on the platform launch as chief technology officer.
Founder Burgess, who retrained as a nutritionist after leaving her job as a government senior strategy advisor, told The Grocer the new 'HelloFresh for kids' service would ensure children are involved in the cooking process and help to develop kitchen skills.
This could help prevent reliance on junk food, she said.
"If children can gain confidence in the kitchen and have more of a connection with food it will help to break that reliance on ultra-processed food, which has swamped the food system and is too cheap and readily available.
"The watered-down food strategy released this week by the government does not help the issue, which is a real disappointment. We want to break that trend, help children learn to love real food and help families who aren't sure how to make current recipe box offers work for kids."
Burgess added the new digital platform would have meal planning functionality and ideas to help encourage families to save money.
Amy Shrives, head of business development at Growthdeck, said Little Cooks addressed "a genuine need" for getting children engaged with healthy nutrition.
"The new interactive platform will help involve children in household meal planning, engage with cooking and learn about the amazing power of food, which will be particularly helpful when it comes to fussy eaters," she added.
"The market for meal planning and healthy nutrition education is huge. We think this company is a great investment and one that has a very positive social impact, too."