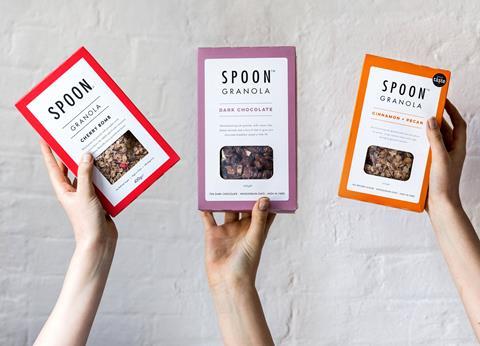 A luxury breakfast cereal start-up has reached out to the crowd for £250k in investment after securing new investment from the co-founder of New Covent Garden Soups.
London-based granola and muesli brand Spoon has grown since gaining publicity on BBC's Dragons' Den programme in 2014, where it secured £50,000 from Deborah Meaden and Peter Jones, who both left the company as shareholders last year.
It is now reaching out to investors to gain £250k for a stake of 10.42% with a pre-money valuation for the business of £2.15m.
A week before its public crowdfunding launch, the company had secured 30% of its desired £250k amount from a group of angel investors on funding platform Seedrs.
Investment has come from a number of individuals, including John Stapleton, co-founder of New Covent Garden Soup Co and Little Dish, who has been a business advisor to Spoon for the past year.
The business, founded in 2013 by brother and sister-in-law duo, Jonny Shimmin and Annie Morris, is currently experiencing 100% like-for-like sales growth.
The upmarket granola cereal brand has five different products and is stocked in more than 250 retail stores across the UK. It is seeking funds to expand this as well as increase distribution and marketing worldwide.
The investment sought will go towards efforts to "broaden the distribution and marketing both in the UK and worldwide with future hopes to expand its range".
The proceeds of the Seedrs investment programme are set to be used on recruitment – specifically a COO, sales manager and marketing executive, promotion, broaden the core range of products and developing a new on-the-go offering.
Its current range of breakfast cereals are listed in Waitrose, Sainsbury's, Ocado, Harvey Nichols, and Selfridges, as well as independent retailers nationwide and overseas.
Spoon has developed two muesli's exclusive to Waitrose, and last week launched its latest product Cherry Bomb, a maple syrup and cherry cereal, nationwide in the supermarket chain.
"The Spoon team are really hungry to grab hold of the opportunities that lie ahead – everything we do is with the knowledge that we can help improve the quality of food eaten during breakfast time routines," commented co-founder Jonny Shimmin.
"I'm confident that with industry experts including John Stapleton, and the support of our advocates from the crowd, we can continue to succeed in our mission to make breakfast better together".