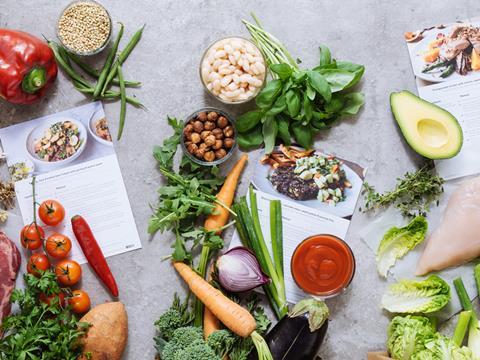 Mindful Chef is seeking £25m in a new fundraising round as private equity investors, blue-chip conglomerates and retailers clamour to own a piece of the fast-growing farm-to-fork recipe box brand.
The direct-to-consumer business, which is being advised on the process by KPMG, expects to secure the cash for a minority stake by the summer, chief executive Tim Lee told The Grocer.
Mindful Chef has grown rapidly since Giles Humphries, Myles Hopper and Rob Grieg-Gran formed the business in 2015, with the latest annualised sales rocketing another 150% to £40m.
Although, Lee, a former head of food and online strategy at Marks & Spencer, who joined as CEO in 2018, said the run rate put real revenues at about £75m.
Sales have also soared by 300% during the coronavirus outbreak, with the business launching a one-off care box service guaranteed to arrive by the next day.
The latest fundraising round follows a £6m investment from PE house Piper in January 2019 and earlier crowdfunding campaigns raising more than £2m, with famous sports stars Andy Murray and Victoria Pendleton among early investors.
Mindful Chef will use the £25m injection to continue to scale the business quickly, improve the customer experience by investing in technology and operations, raise brand awareness and expand into new categories and channels, as well as exploring opportunities overseas.
The business, which expanded beyond recipe boxes in 2019 with a frozen range of meals, was exploring further product categories, as well as potential entry to the retail market and opening of Mindful Chef concessions, Lee said.
"We are still very much focused on the growth story," Lee added. "During the coronavirus crisis, our healthy brand has really resonated with customers and we have become even more relevant.
"And this also resonates with investors as it shows not only can we scale the business quickly, but we can also adapt very quickly and are responsive to customer needs. Those things have helped generate a lot of interest in this funding round."
He said: "We're focused on the mission of making health eating easy. The current situation has accelerated those plans and we have moved them forward significantly.
"We are really excited about how we can serve customers with our improved recipe boxes, new services such as are next-day delivery boxes and the range of our frozen offer. Awareness has grown over past six weeks but there is now an opportunity to become a household name in the UK and beyond."
The recipe box market is currently estimated to be worth £500m and is expected to reach £1bn over the next few years.
Recipe kit rival Gousto recently raised £33m from a host of private investors to continue its growth plan.