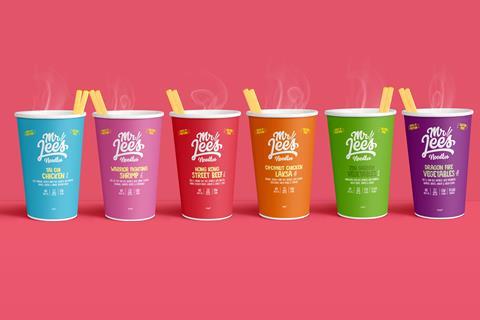 Premium pot noodles maker Mr Lee's Pure Foods has turned to the crowd to fund the business' scale-up, including an upcoming launch Stateside.
The 2015-established company launched a crowdfunding campaign on Seedrs earlier this month, aiming to raise a minimum of £1.8m in exchange for a 5.74% stake in the business, valued at £28.7m.
With over 35 days left to hit its target, Mr Lee's had already secured £1.7m from 198 investors, including Henry Soesanto, existing shareholder and CEO of Quorn owner Monde Nissin.
Mr Lee's founder and CEO Damien Lee said the campaign had been planned well before the global coronavirus crisis started wreaking havoc in the investment market. However, the company had been forced to lower its initial target and is now hoping to overfund.
Co-founder Graeme Hossie said: "We have been building up for expansion, so we have been planning a fundraise to underpin all of the opportunities that we are now finally growing into."
Lee added: "We felt it was absolutely the right time to crowdfund. Traditionally, in times of crisis food companies tend to be the businesses that do well.
"No matter what the crisis people still have to eat, so as long as you can get a grip of your supply chain and distribution you will tend to survive."
Lee started the company – producing healthy instant noodles with no added sugar or preservatives – after a cancer diagnosis five years ago prompted him to remove all the "nasties" from his diet.
The scale-up then expanded from food to tech with the creation of Mr Lee's "Hot Noodle Vending Kiosks", available in 27 UK locations so far.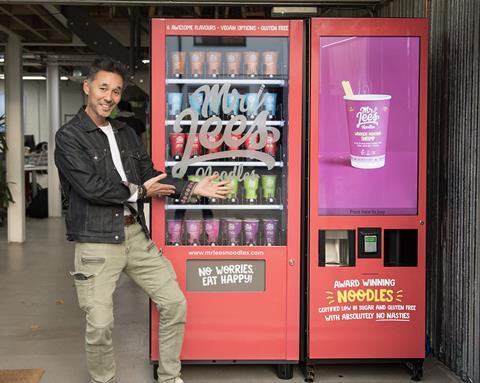 The cash raised will be used to advance operations funding an upcoming nationwide US launch, the expansion of its vending business – including contact-free purchasing that operates the vending machine through mobile – and the rollout of its latest NPD, a congee savoury porridge, in Australia and the US.
Further investment will provide the necessary working capital to build stock levels and keep up with increased demand.
Since the beginning of the coronavirus crisis, Mr Lee's saw an 800%-1,000% rise in online sales through Amazon, Ocado and its own e-commerce shop.
However, the company lost overnight its entire travel revenues. It was stocked by EasyJet, Norwegian Air and Vueling, among others.
"Where we have lost some of our traditional business, the growth in online sales has balanced it out quite nicely and brought back sales," Lee said.
Retail sales saw no significant rises in the UK, he added, as retailers focused on prioritising established brands.
Overall, the business is trading 8% behind its original annual forecast of 300% year-on-year growth for 2020.