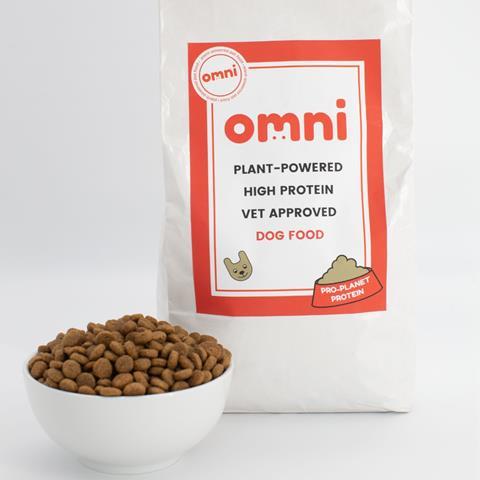 Plant-based dog food brand Omni has raised £1.1m to fuel its ambitious expansion plans.
Vet Guy Sandelowsky and former investment banker Shiv Sivakumar founded the business in 2020 in an attempt to make pet food more sustainable.
Backers in its first fundraising round include institutional food-tech investors such as ProVeg International, Trellis Road, Purple Orange Ventures, Shiocap, and Kale United.
Omni plans to use the funds to expand its product offering with a new line-up of functional plant-based treats set to be released in the coming months. The treats will target specific health issues commonly observed in dogs such as skin issues, joint problems and anxiety, the business said.
The London-based brand's kibble is made using natural plant-based ingredients such as pea protein, brown rice, oats, sweet potato and pumpkin. The business claimed the product's 30% protein content was higher than standard meat kibble.
Sandelowsky said: "More and more pet owners are going vegan, vegetarian or flexitarian, and many are taking their pets with them.
"This market is already worth many billions of dollars a year worldwide and it will only get bigger – perhaps much, much bigger."
In 2021, Omni joined the ProVeg Incubator accelerator programme to help boost growth.
Incubator head Albrecht Wolfmeyer added: "Plant-based alternatives are transforming the food industry. Now the pet food industry is ripe for change.
"Omni is part of a new generation of impact-driven pet food companies focusing on sustainability and health."