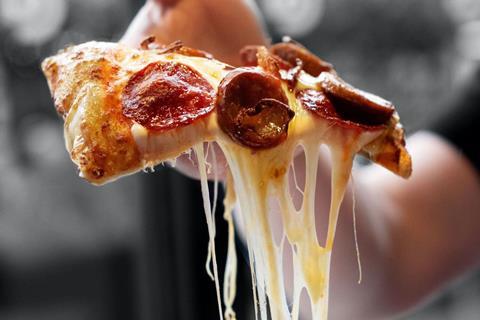 Fast food startup @Pizza has raised almost £1m from the crowd to open new restaurants and launch drive-thru sites.
The business will use the funding to fit out shipping containers to replicate its two bricks & mortar restaurants in Birmingham and Edinburgh, offering a takeaway service in busy car parks. The new semi-permanent sites will also include a drive-thru option, which @Pizza said was a UK first.
The company cooks its cold-proofed sourdough in high-temperature ovens, with the customisable pizza ready for customers in 90 seconds.
Co-founder and CEO Robert Lyle outlined plans to open between 20 and 30 restaurants and drive-thrus in clusters in Birmingham, Edinburgh, Glasgow, Manchester and London in the next five years. The shipping container format would lower costs, he added.
"Having achieved successful growth and critical acclaim with its existing fast-casual restaurants, @Pizza now sees opportunities to grow," Lyle said.
He pointed to the shipping container sites as a opportunity Since hitting its £820,000 funding target on Crowdcube, work has started to fit out a new restaurant on Edinburgh's Royal Mile, which is set to open in December.
@Pizza is also working on its first shipping container site, offering contactless takeaway, home delivery and a pizza drive-thru.
"These low-cost, flexible units will enable @Pizza to broaden its customer base, giving consumers bespoke pizza how, where and when they want it, without significant fixed property costs."
The convertible Crowdcube funding round has currently raised £974,000 from 669 investors. Unlike a traditional equity crowdfunding round, investors in a convertible campaign don't receive shares in the business immediately.
Equity is normally issued at a later date, usually coinciding with a second larger funding round.