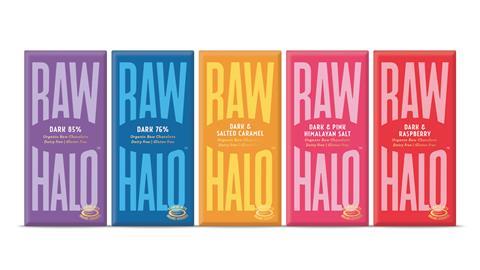 Vegan chocolate manufacturer Raw Halo has returned to Crowdcube for a third time looking to raise £250k to fund its expansion into major UK mainstream retailers.
The company is offering 5.95% of its equity, implying a £4m pre-money valuation.
Within two days since publicly launching, the crowdfunding campaign has already seen 84 investors pledge £60k towards the challenger brand's growth.
Raw Halo plans to use the funds to support expansion into major UK grocers, with conversations already ongoing with Sainsbury's and Tesco to secure permanent listings.
Back in February, the brand successfully launched nationally into Waitrose and Holland & Barrett, with distribution in the two grocers due to increase in the coming months.
"The reason why we are now looking to raise further funds is to make sure we can continue to build on the success of those recent listings with a sufficient marketing budget, and replicate that success in other major retailers here in the UK," founder Meg Haggar said.
"The next 12 months will really be the year for Raw Halo in terms of accelerating growth and making sure that we are listed in all of the key supermarkets."
The brand is open to overfund up to a maximum of £350k, director Jonathan Chapman said, with additional cash to go towards creative marketing campaigns and team expansion.
Raw Halo overfunded on both of its previous campaigns in 2016 and 2017, so its founders were "hopeful" to achieve a similar result this time.
"It will just give us that extra budget to really push the brand over the next few years," Haggar added.
Launched in 2015, Raw Halo offers organic, vegan, better-for-you chocolate bars, featuring indulgent flavours such as Dark & Salted Caramel and Dark & Raspberry. Its line-up even includes a non-dairy vegan 'Mylk' chocolate bar made with creamed coconut.
Since then, the brand has sold over one million bars with listings in over 1,000 locations including Ocado, Whole Foods Market, As Nature Intended and Planet Organic.
By 2022 it expects to produce and sell four million bars through increased listings in the UK as well as growing international reach within new markets.
For the year ending this September, Raw Halo expects to double revenues to over £700k, with growth due to accelerate to £1.5m in sales in financial year 2020.
The company is also focused on sustainability, having recently completed a rebrand switching to fully recyclable, plastic-free packaging. It also aims to plant 20,000 trees over the course of the next year through its partnership with charity One Tree Planted.
"It is a goal for us personally and as a brand is to become more sustainable and ethical," Chapman added.