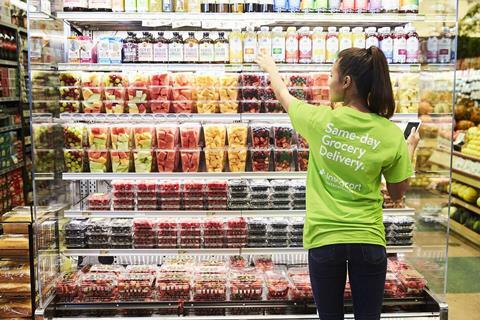 Barcode scanning platform Scandit – used by retailers in 'scan and go' apps – has raised $80m in a Series C funding round prompted by an increase in demand caused by the coronavirus pandemic.
As well as enabling consumers to use their own devices to scan items in supermarket aisles, Scandit technology is also used by grocery delivery drivers to ensure the right items are delivered to the correct customer.
"The need for social distancing post Covid-19 has accelerated demand for mobile computer vision on personal smart devices, as companies seek to create a safer contactless environment for their employees and customers," said Samuel Mueller, CEO of the Swiss company.
"Retailers and transport and logistics companies are also discovering that they can scale up faster to meet the soaring demand for click & collect and the millions of extra home deliveries, by providing workers with scanning apps on their own or corporate-owned smart devices. Scandit is helping its customers rapidly ramp up these services."
Grocery customers include Switzerland's second-largest retail group Coop, German wholesaler and food retailer Metro, Belgian food retailing group Colruyt and US personal grocery shopping service Instacart. In the UK it has been adopted by Farmdrop and Co-op.
The latest investment round was led by G2VP, a Silicon Valley venture capital firm, and brings the total Scandit has raised to $123m. Since its last funding round in 2018, the company says it has tripled recurring revenues and doubled its customer base.
"Our new funding makes it possible for us to help even more enterprises to quickly adapt to the new demand for 'contactless business', and be better positioned to succeed, whatever the new normal is," Mueller said.