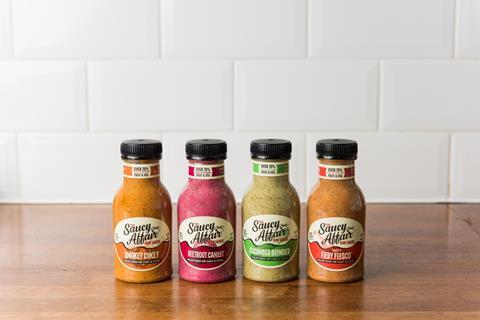 Fresh sauce startup The Saucy Affair is about to embark on a crowdfunding campaign to fully relaunch the brand with a new name and look.
The company will hit Seedrs today, looking to raise £350k in exchange of a 7% stake in the business, for a £4.7m pre-money valuation.
The funds will be used to relaunch the brand as 'Tanya's Just Real', named after founder Tanya Robertson-Lambert, who started the brand in 2016 after struggling to find products to create quick and healthy meals for her family.
The six-strong range of cold-pressed products – three sauces and three dressings including flavours such as Fiery Fiasco, Beetroot Cahoot and Smokey Cokey – is vegan, gluten, dairy and preservatives-free.
"Tanya's Just Real came to me like an epiphany and it just made sense because within the product we have just real ingredients," Robertson-Lambert told The Grocer.
"The new brand better reflects our proposition, championing our focus on real ingredients and a real-world purpose. The cold-pressing process used to make our products means both the nutrients and taste are retained, giving home cooks and caterers a one-of-a-kind quick and easy win in the kitchen. What we have is unique."
The cash raised will go towards funding a "heavyweight integrated marketing campaign" – including advertising, PR, social media, sampling and in-store activation – to secure listings within major retailers and get the products into "homes and chefs' fridges everywhere".
NPD is also on the table, with a range of dressings launching in autumn 2020 and new flavours aimed at the European market in development.
The Saucy Affair gained a listing in Sainsbury's last year but decided to temporarily halt production and pull out from the retailer's chillers in May to focus on the fundraising and relaunch.
Robertson-Lambert managed to get into Sainsbury's "single-handedly" as the sole employee of the business. However, she soon realised she didn't have the necessary knowledge or experience to be able to market the products successfully, she explained.
"One woman can't manage all of this," she said. "I needed to press pause, re-look at my brand and redevelop its proposition because the products were not shouting fresh, healthy and all the goodness that is inside them."
A new distribution plan focusing on major retailers, wholesalers and foodservice is also been drafted by the company, with conversations already ongoing to secure new listings following the relaunch in early 2020.
Currently The Saucy Affair is looking at growth of between £6m and £7m over the course of the next three years, a target Robertson-Lambert described as "conservative".
The founder also has clear exit plans, aiming for a trade sale to "one of the big players" within five to seven years.
"The big ambition for me is to be helping people by making cooking from scratch easy," Robertson-Lambert said. "Our core purpose is to do good."