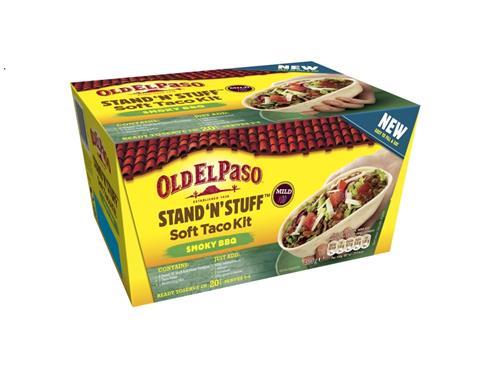 General Mills is looking to heat up the Mexican food category with the launch of flat-bottomed tortilla shells.

Rolling out this month, the Stand 'n' Stuff range comprises a pack of tortilla shells (rsp: £1.89/eight-pack) and two "taco kits" - Smoky BBQ and Extra Mild Super Tasty, which each contain eight tortilla shells, a seasoning mix and salsa sauce (rsp: £3.79).

Already a success in the US, said General Mills, it is hoped Stand 'n' Stuff would encourage Brits to eat more Mexican food mid-week rather than reserve it for a weekend treat. Predicting sales of £5m in its first year, the company added it was also hoping to drive sales of tacos, which account for just 2% of the UK Mexican food category.

"The flat-bottomed shells are easy to fill without making a mess - one of the main consumption barriers to Mexican food - while the softness ensures the meal does not crumble at the first bite," said marketing manager Mark Brown.

Stand 'n' Stuff was launched in the US last summer and has just rolled out in Norway and France. It will debut in Australia this July.

The UK launch will benefit from a £2.5m push that kicks off in September, spearheaded by TV advertising.

Last month, rival Mexican brand Discovery Foods was relaunched as Santa Maria as part of a bid to triple sales to £90m in the next six years. The activity included the launch of 30 new lines such as chilli pastes, guacamole seasoning mix and Heat, Spice & Shake corn chips.