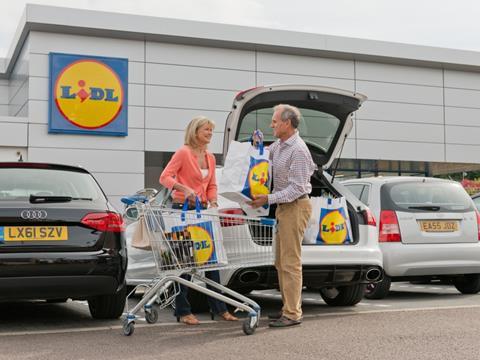 Lidl UK is determined to keep pressing the accelerator after being crowned Grocer of the Year at this week's Grocer Gold Awards.

The discounter - which scooped the top award after seeing off rivals Aldi, Waitrose and Asda - is continuing its recent transformational journey with significant changes in-store.

It is currently trialling self-checkouts as well as a more traditionally British checkout that allows shoppers to pack groceries right away rather than remove them to the bench at the back of the store.

Speaking to The Grocer after picking up the award this week, UK MD Ronny Gottschlich said he wanted to make sure both systems were truly delivering before a wider rollout. "If you invest a lot of money to refurb and reissue you want to be sure they are safe and operationally sound. If they are proven to be right with a belt, I'm pretty keen on it," he said.

Gottschlich also said Lidl was working on developing new back office systems that could provide the ability for some categories to have an automated ordering system. Having said this, he stressed he was keen for store managers to retain ownership of what sells in their stores. "We've heard stories about store managers not being able to use their local knowledge," he said. "So to say it's fully automated is too far."

Lidl impressed the Grocer Gold judges not only by smashing through the £4bn sales barrier with growth of 20% in 2014 but with marketing that truly opened it up to the British public for the first time.

Building on this, Lidl this week launched a major new TV ad push titled "Shop a Lidl Smarter" featuring members of the public in taste tastes of Lidl products versus key branded lines.

"We shifted from old traditional to modern media and have taken it to a new level," said Gottschlich. "We only used real people and real reactions and that set us apart.

"Our latest campaign is all about encouraging shoppers to let their tastebuds guide them rather than be distracted by packaging and gimmicks - two things they're ultimately paying for themselves."

Gottschlich stressed the Grocer Gold victory had been a team effort and staff were "really, really chuffed". He also acknowledged major changes that had taken place at Lidl recently. "The things we've managed to do over the last couple of years have put us in the reckoning."
Tesco is 'favourite supermarket'
Tesco boss Dave Lewis hailed its victory as 'Britain's Favourite Supermarket' at the Grocer Gold Awards this week by declaring that his investment in service was paying dividends.
After a tough year, the retailer was triumphant in the category, which is decided by a Nielsen survey of nearly 6,000 households.
Tesco came top in categories including overall shopping experience, wide choice of products, consumer focus and convenience.
Lewis said he was "delighted" at the award: "We've put thousands of extra colleagues on to the shop floor, improved the availability of our most popular products and lowered the prices on everyday items," he added.