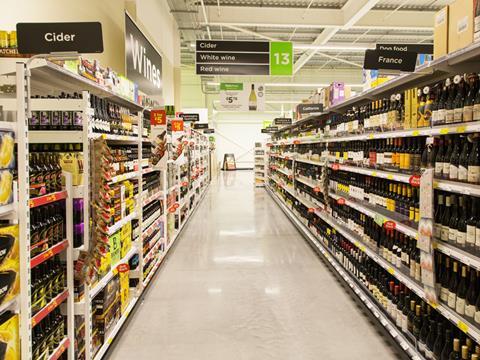 Asda is ratcheting up the price pressure on its UK grocery rivals as its overall price cuts last month hit their deepest level so far in 2019.

Amid the collapse of its mega-merger with Sainsbury's, Asda has emerged as the primary driver of grocery prices moving back into deflation this year and solidified its position as the industry's leading price cutter in April.

The Grocer Price Index found Asda prices were 1% cheaper year on year over April, the third time in the past four months the supermarket has had the lowest level of inflation. Asda's annual price drop during the month was its largest so far this year and only topped in recent times by its 1.1% deflation over December 2018.

Overall the GPI, collated for The Grocer by Edge by Ascential from over 64,000 SKUs across the big four supermarkets, fell back into deflation of 0.3% last month having edged up to inflation of 0.4% in March.

Overall supermarket prices have now been in annual decline in five of the past seven months, after hitting inflation of 2.7% back in November 2017, as prices rose due to the weakening value of the pound.

Tesco and Sainsbury's also both moved back into deflation during April, recording annual price cuts of 0.5% and 0.3% respectively after year-on-year prices had increased in March.
Morrisons remained the big four player with the highest level of annual inflation - a position it has occupied in each of the past seven months. Morrisons prices were up 0.8% year on year in April - its highest inflation for three months, but notably lower than the 2.1% it recorded in January.

Waitrose, not included in the overall GPI figure, recorded annual price inflation of 0.9% and has yet to record a single month of annual price cuts since the wider industry moved back into inflation in late 2016.

The move back into overall GPI deflation was partly driven by the annualisation of the UK soft drinks levy, which had pushed up average prices across the category in April 2018.

This month soft drinks moved back into year-on-year deflation of 1.4% as the 'sugar tax' drove sharp price increases, which had raised prices in the category by as much as 3.9% in June 2018, annualised this month.

Half of the GPI's 14 categories were in deflation in April, led by health & beauty (-1.7%) and alcohol (-1.2%).

Inflation remains strong in bakery, albeit edging down from 1.8% in March to 1.6% in April. Other categories in inflation include biscuits, confectionery and snacks (+1.4%) and frozen (+0.8%).

The overall GPI has hovered within 0.5 percentage points of zero from every month since July 2018, as the annualisation of Brexit-driven cost increases and the continued competitive UK grocery environment has dissipated two years of inflationary pricing.