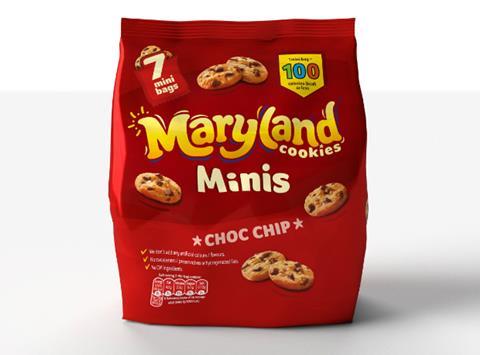 Burton's Biscuit Company is to reformat its core Minis multipacks in support of Public Health England's 100-calorie snack initiative.
A '100 calories' flash will appear from mid-August on Maryland Minis, Maryland Minis Double Choc and Jammie Dodgers Minis – in what Burton's claims is a category first.
Both Maryland SKUs have reduced the size of their individual snack packs to 19.8g from 25g to ensure 100 kcals per portion. However, an additional pack has been added to offer "continued value for money". At 139g, the new Maryland multipacks will be 8% smaller but the rsp will not change.
The revamp marked a "positive step towards easier and more informed choices" for health-conscious shoppers, said Mandy Bobrowski, UK & Ireland marketing director at Burton's.
More than half of Mini biscuits were eaten by youngsters, she added, "so highlighting the calorie content on pack will enable parents to make decisions when it comes to buying for their children, particularly following the government's Change 4 Life campaign message of 100-calorie snacks – two a day max."