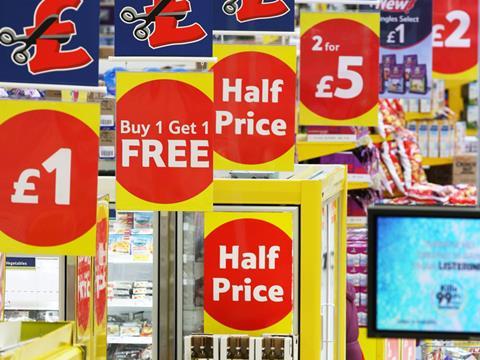 Suppliers are massively underprepared for the government's looming ban on HFSS promotions, with up to a fifth of companies completely in the dark about the proposals.
Research published by GS1 UK based on responses from 400 food and drink businesses showed 70% were unaware that volume promotions will be banned under the Department of Health clampdown, due to come into force in October.
Shockingly, 20% of businesses are unaware of the new legislation altogether, while almost half felt unprepared for its implementation.
GS1 said the legislation passed last year represented one of the most significant challenges the retail industry had ever faced and was comparable to the restrictions placed on tobacco and alcohol – but spread over an even wider number of categories.
Under the ban, HFSS products will be banned from prime locations in stores and volume promotions such as bogofs outlawed.
Meanwhile, restrictions on digital marketing and advertising will also come into effect from 1 January 2023, though there is speculation they could be delayed.
Despite the promotions ban being made a key part of the government's war on obesity, just one in three companies that responded to the survey said they had assessed their products ahead of the deadline, with only 48% reformulating existing products and around a quarter having not even considered it.
It also emerged that just a third are training staff on the new rules and only a similar amount auditing suppliers.
The survey suggests there is strong public support for the moves, with 68% of consumers agreeing with the new rules, though more than half said they would miss bogofs.
"The HFSS legislation represents a seismic shift for businesses across the UK and many of our 57,000 members will be affected," said Anne Godfrey, CEO of GS1 UK.
"Whilst our research reveals that businesses and consumers are aligned on the benefits the changes can bring, the findings show there is much more to be done if the sentiment of the legislation is to become a reality.
"Many businesses feel overwhelmed with the challenges they have faced over the last two years, but there is no doubt that the industry, now more than ever, needs to take a standardised approach for the collection of quality data if they are to adapt quickly and confidently to new legislation and growing consumer demand."
Tim Lang, professor of food policy at City University London, added: "It's worrying to see that businesses across the food and drink industry do not feel prepared for the upcoming changes in legislation. Whilst the changes will no doubt affect how countless businesses operate, the new legislation is a crucial step toward solving issues around public health. It is, however, encouraging to see support for the introduction of the new rules amongst both the industry and the public."
Action on Salt campaign manager Sonia Pombo said: "Placing restrictions on unhealthy food promotions in-store is one way of helping to transform our food system and save lives.
"Rebalancing the cost of producing healthier vs less healthy foods will drive further innovation and recipe improvements, to build a healthier, more equitable nation. The food industry should fully understand their influence and direct responsibility."