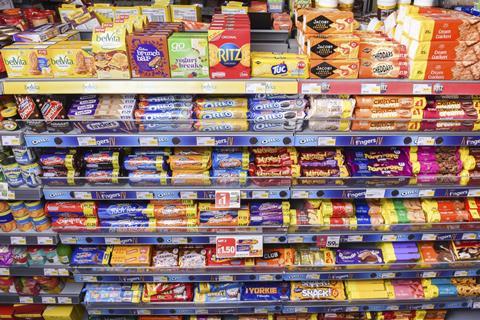 Fresh reports that the government is to backtrack on its plans for a crackdown on HFSS promotions have seen the government obesity strategy plunged into chaos.
Reports in the Financial Times, as well as Sky News and The Daily Express, suggest Prime Minister Boris Johnson is to shelve the plan, which had no mention in the Queen's Speech.
Several sources from campaign groups and the industry said yesterday there was speculation the government had decided to drop the proposed ban on volume promotions, amid concern over the cost of living crisis.
The ban was due to come into force in October, which would likely see it coincide with an expected huge rise in fuel costs.
The FT said the government had ditched the proposed ban on volume deals such as bogofs. It remains unclear what the move will mean for the ban on promotions in high-profile locations such as aisle ends, or the proposed HFSS television and online advertising clampdown due to come into force next year.
The latest twist comes after food and drink bosses urged the government to shelve measures including the promotions ban after warning of the impact on inflation amid disruption to the supply chain from the war in Ukraine.
The FDF said the ban would lead to "inflation being piled on inflation".
Further pressure against the government's strategy came last month when cereals giant Kellogg's launched a legal challenge in the High Court, claiming the model used to determine which foods were HFSS was not fit for purpose.
The Grocer has revealed a raft of other food companies have been considering the possibility of launching their own legal action.
However, both industry and campaign groups agreed it would come as a major shock were the government to u-turn on its plans at such an advanced stage. The government published detailed guidance on how the rules should be introduced last month, which was widely criticised by the industry for a lack of clarity and alleged unfairness.
ACS CEO James Lowman said if reports of a u-turn were true, it would be a victory for common sense.
"Our members are telling us that customers are watching every penny, so now is not the time to put new legislation in place that makes feeding families more expensive," he said.
"Scrapping the ban on 'buy-one-get-one' deals and other promotions would help retailers to deliver value for customers in stores."
Lowman added: "We are also urging the government to rethink whether to continue with location restrictions. These measures are complex, unnecessary and expensive to implement, and retailers tell us that they cannot just absorb the cost as they are dealing with increased costs in every area of their businesses."
Tory MP Philip Davies told Express.co.uk: "I am delighted that the government has seen sense, and I am grateful to the prime minister for acting on the case I repeatedly made to him about this.
"It would be unacceptable for a Conservative government to introduce a nanny state ban on special offers at any time, but for it to have been proposed during a cost of living crisis was utter madness.
"I very much hope that this hare-brained scheme never sees the light of day again."
Tatton Conservative MP Esther McVey added: "I am delighted the government has listened and this policy will not be introduced as planned."
The reports of a backtrack, which follow much months of speculation over whether the government would press ahead with the ban, were met with outrage by health groups.
"The evidence is clear that junk food multibuy offers do not save us money, but instead lead to families spending more on less healthy food, increasing diet-related diseases and long term cost and pressure for our NHS," said Barbara Crowther, director of the Children's Food Campaign.
"We were pleased that plans to implement these regulations were very recently re-confirmed in response to Parliamentary questions by the Public Health Minister Maggie Throup MP, so we sincerely hope that news reports today are unfounded, and that this government will resist these attempts by backbench MPs to play politics with children's health."
Action on sugar and Action on Salt director Katharine Jenner said: "If reports are to believed that this vital policy might be delayed, then this would be extremely disappointing, especially considering so much industry investment and time has gone into putting their healthier food in the spotlight ready for October. We remain optimistic that the government will stick to its promise and put the nation's health first."
Cancer Research UK CEO Michelle Mitchell said: "We're picking up on incredibly concerning remarks from Conservative MPs suggesting the UK Government might delay planned restrictions on volume-based price promotions of less healthy food and drink in England. This is one of the policies critical to reducing obesity, the second biggest preventable cause of cancer.
"At a time when people have less money in their pockets, BOGOF or volume-based price promotions increase the amount people spend by 20%, because they buy more than they intended to and cause impulse buying of unhealthy foods.
"Delaying this evidence-based measure would be delaying progress in helping people maintain a healthy weight and risks exacerbating health inequalities. With a new 10-year cancer plan on the horizon, the Government must show bold leadership if people with cancer are to see the progress they deserve."
One industry source said: "Whilst there will of course be many companies who welcome this, I think the government is going to have plenty of questions to answer if it scraps the plans, considering the huge investment companies have made in reformulation and in coming up with new promotional strategies.
"If it was any other government, I would not believe this speculation, but this is not any other government."