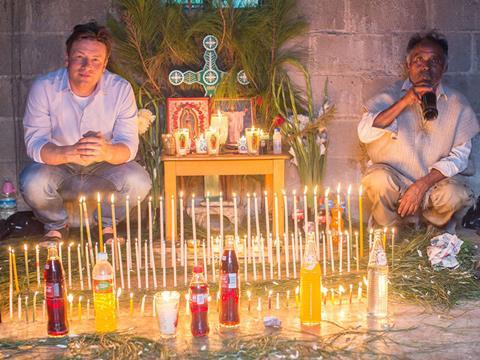 Jamie Oliver's petition for a tax on sugar-added soft drinks has hit the required number of signatories for parliamentary debate to be considered.
The chef and former Sainsbury's front man, whose Channel 4 documentary Sugar Rush was screened last night, has joined forces with anti-sugar campaigners including Action on Sugar, the National Obesity Forum and Sustain, on the manifesto calling on Prime Minister David Cameron to impose a 20p per litre tax on all drinks with added sugar. This is equivalent to 7p on a 330ml can.
With the petition on the Downing Street website flooded with responses, to the extent that for a time last night it crashed, and growing at the rate of about 6,000 an hour, MPs are almost certain to be required to debate the call, regardless of what materialises in the forthcoming Childhood Obesity Strategy.
"Jamie has thrown down a simple challenge: increase the price of sugary drinks, to encourage families to switch away from buying them, and for the money raised to pay for programmes that will benefit children's health and the environment they grow up in," said Malcolm Clark, co-ordinator of the Children's Food Campaign for Sustain. "We encourage people to follow the lead not only of Jamie but of many doctors, dentists, dietitians and other public health experts in backing the call for a 20p per litre duty on sugary drinks, and signing the petition asking the Government to introduce it."
Oliver's manifesto also calls on the government to "legislate the Responsibility Deal" by scrapping voluntary pledges in favour of regulation, including sweeping new sugar reduction targets and fines. It also calls for sugar content to be labelled in teaspoons on the front of pack and traffic-light labelling to become compulsory.
"We applaud Jamie Oliver's personal commitment to improving public health," said Ian Wright, director general of the Food and Drink Federation. "Most of us in the food industry have a similar commitment. We agree that change is needed.
"I do find it inconsistent that the Jamie Oliver Restaurant Group and Leon Restaurant Groups, neither of which provide nutrition labelling on in-store menus or support Government's drive to reduce calories, have chosen to tax customers choosing soft drinks.
"Additional burdensome taxes on foods or drinks, on top of the already enforced 20% VAT on most foods, would be regressive, ineffective and unworkable. They are rejected by the public. This complex challenge needs a complex solution, one which involves and empowers people, not taxes them."