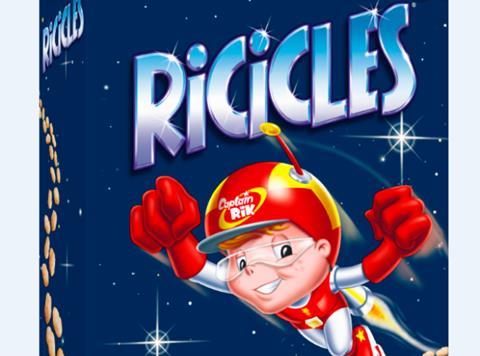 Kellogg UK is to axe Ricicles after 62 years as part of a major health-focused move that will see drastic cuts in the sugar levels of Coco Pops and Rice Krispies.
The breakfast giant today (30 November) announced its Better Starts Plan to overhaul its child-friendly portfolio and "help the people of Britain make healthier choices". Five years in the planning, the initiative was Kellogg's "biggest change for a decade" said the company's new MD Oli Morton.
It will begin in January when Kellogg's ends production of Ricicles, the sugar-coated rice puffs launched in 1955. Delisting the cereal had been a "tough decision" Morton told The Grocer. "We're going to have some upset consumers, but it shows our seriousness."
Ricicles' value sales have fallen 5.4% in the past year to £2.27m [Nielsen 52 w/e 29 September 2017]. Currently offering 34g of sugar per 100g, it could not be reformulated without detriment to its taste, Morton added.
However, Coco Pops, Rice Krispies and Rice Krispies Multi-Grain Shapes are all set for new recipes, which will see Coco Pops' sugar level cut by 40%. By July, the cereal will contain 17g of sugar per 100g following a £5m investment. Coco Pops currently contain 30g of sugar per 100g, having had its sugar level trimmed by 14% early this year.
Rice Krispies with 20% less sugar (from 10g to 8g) will roll out at the start of 2018, while the cereal's Multi-Grain Shapes variant will have its sugar cut by 30% in July (from 21g to 15g).
The reformulations had been made possible through "a secret recipe" said Morton. A balance of mutigrains and cocoa reduced the need for sugar without affecting taste or requiring artificial sweeteners.
While Kellogg's recipe changes were focused on "products that resonate with kids", Frosties wouldn't be affected because "this cereal now tends to be eaten more by adults than children". As a result, it will no longer feature on-pack promotions.
As a further part of the Better Starts Plan, January will see the launch of WK Kellogg, a vegan-friendly cereal range featuring organic and no-added-sugar options.
Kellogg's had "a long tradition of helping improve the nation's diet – from pioneering high fibre foods in the early 1900s to adding folic acid to our products in the 1970s; from launching a long-term salt reduction plan in the late 1990s, to adding vitamin D to all our kids cereals in 2000s," said Morton.