As the government prepares to crack down on the promotion and advertising of high fat, salt and sugar foods, brands are launching healthier new products and reformulating existing lines to stay below the threshold
Shreddies 'The Simple One'
Simplicity is key for Nestlé's new Shreddies, which contain just four ingredients: wholegrain wheat, fruit purée, date syrup and "a pinch" of salt. As well as being non-HFSS, the cereal is high in fibre and boasts all green traffic lights. The supplier said the launch supported its "wider commitment to ensuring the majority of our cereals are non-HFSS by the end of 2021".
Eat Real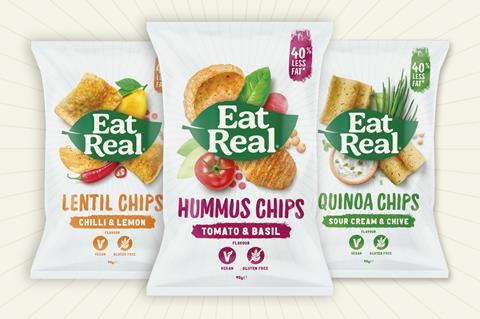 Healthier snacking brand Eat Real is relaunching this summer in a bid to become a "fully non-HFSS" business. As well as getting new-look packaging to highlight its use of natural ingredients, Eat Real will roll out two new flavours of Hummus Chips: Sea Salt & Balsamic Vinegar and Barbecue. The brand will also reformulate its Sea Salt and Tomato & Basil Hummus Chips, making them HFSS compliant by reducing their salt content by more than 50%.
The Savourists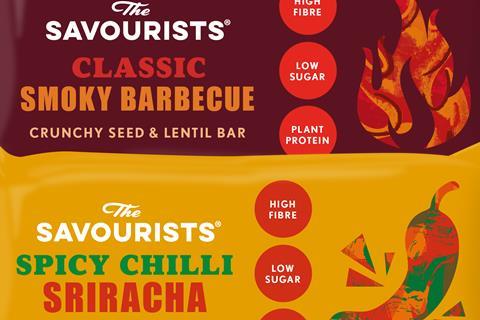 When it launched back in October 2019, The Savourists called itself "a non-HFSS brand driving innovation in the snack bar category". Since then, the brand has strived to "evolve" the category, which it says is dominated by sweet bars "with misleading health messages and similar taste profiles". The Savourists' most recent launch is a pair of savoury seed and lentil bars in Classic Smoky Barbecue and Spicy Chilli Sriracha variants. The gluten-free and vegan bars provide 146 calores and 1.9g of sugar per bar, as well as 12g of fibre and 4.6g of protein.
Simply Roasted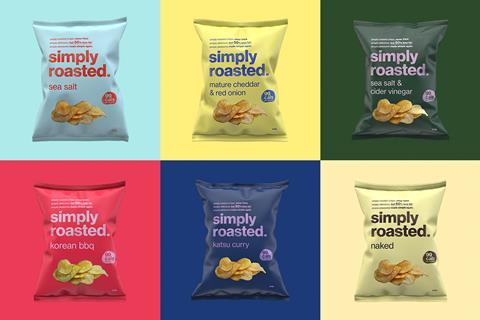 Startup Mindful Snacker made its debut last month with Simply Roasted, an eight-strong range of non-HFSS crisps. The snacks are said to contain 50% less fat than rival brands thanks to their production process, which involves three different ovens. As well as classic variants such as Sea Salt, Mature Cheddar & Onion and Sea Salt & Cider Vinegar, the lineup features world food-inspired flavours including Korean BBQ, Katsu Curry and Thai Green Curry. Mindful Snacker is said to be in talks with major retailers to list the crisps, which contain 0.58g salt per 100g.
Kind Almond Butter Bar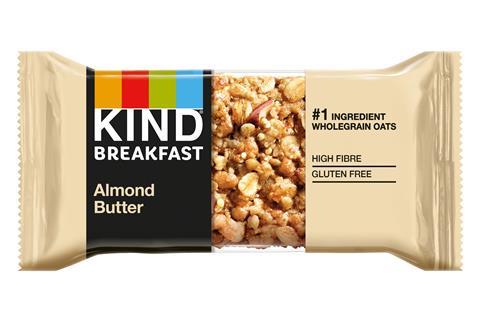 This month will see the launch of a new Almond Butter breakfast bar from Kind, which is specifically formulated to be HFSS compliant. Made with a base of five whole grains – oats, millet, buckwheat, amaranth and quinoa – the bars are naturally high in fibre as well as gluten-free. Meanwhile, the brand is also lobbying PHE to have products containing more than 50% nuts (such as those in its core snack bar range) reclassified as nuts and seeds rather than confectionery and cereal bars, in a bid to sidestep the crackdown.
Insane Grain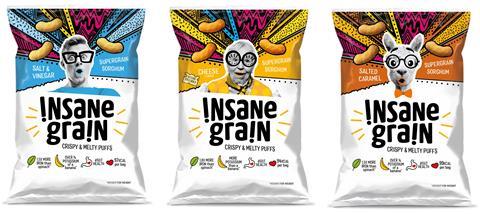 Made from the 'ancient supergrain' sorghum, Insane Grain's new range of puffs are set to launch in the coming weeks. Available in cheese, salt & vinegar and salted caramel flavours, the snacks are gluten free, vegan and contain less than 99 calories per bag. As well as being non-HFSS, the brand claims its 'gut healthy' snacks have more iron than spinach and more potassium than a banana weight for weight.
Snack a Jacks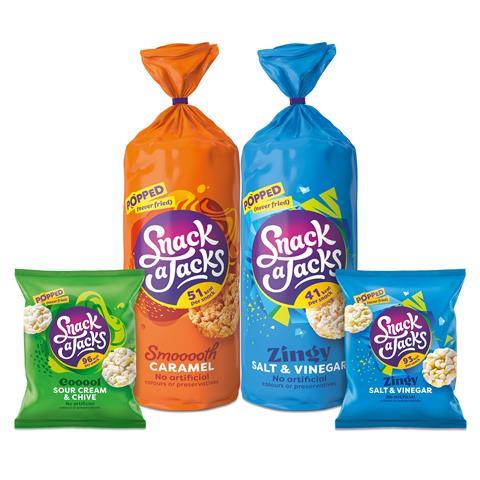 PepsiCo is overhauling ricecake brand Snack a Jacks in an effort to make it non-HFSS. The first SKUs to undergo reformulation will be Kickin' Sweet Chilli Crispies, which will be available at the end of May, and Smooooth Caramel Jumbo Ricecakes, which will land on shelves in June. "The majority" of Snack a Jacks' other lines will then be reformulated in 2022. The range will also be given a new pack design featuring a prominent 'Popped (never fried)' message.