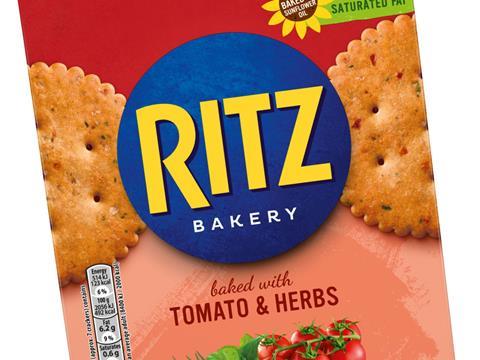 Cracker brand Ritz has undergone a radical overhaul, cutting its saturated fat content by as much as 80%.
From mid-September, the original variant of Ritz's core savoury biscuits will feature 2.3g of satfat per 100g, marking a 74% reduction from the current 10g – while the biggest cut across the brand will see Ritz Breaks Original fall 80% from 8.4g of satfat per 100g to 1.7g. Already low in saturated fat, Ritz Crisp & Thin potato crisps have not been reformulated.
The change for Ritz's wheat crackers came as 46% of snacking occasions "were chosen for health", according to the brand, while 85% of shoppers "claim they are trying to improve their diet to become healthier".
The dramatic reduction in satfat had largely been achieved through a switch to sunflower oil from sustainable palm oil, said Ritz brand manager Melissa Stuart. However, the reformulation had maintained "taste and quality" she added. "We're changing with where consumers are going and offering them more choice in healthy snacking."
In recent years Ritz has focused on reducing its salt content (to 0.3g per 100g in the core lineup), but it is now concentrating on satfat as part of a larger health strategy by owner Mondelez. The company's well-being initiative aims by 2020 to reduce saturated fat by 10% across its business globally.
Ritz is also set to roll out a new variant of cracker – the brand's first in at least 10 years. Tomato & Herbs (rsp: £1.49/175g) has visible inclusions that create "a tasty twist to the Ritz Original cracker".
All three variants of cracker, including Cheese, and Ritz Breaks will roll out from 17 September in new-look packaging, which include a '70% less saturated fat' flash in reference to 'other savoury biscuits on average'.
The overhaul would make the brand "even more accessible" Stuart said. It will be backed by a £1.5m push in the run-up to Christmas.
Last year, Ritz was the sixth most popular savoury biscuit brand in the mults, having dropped two places as a result of a 6.3% fall in value sales to £16.5m [Nielsen 52 w/e 9 September 2017].