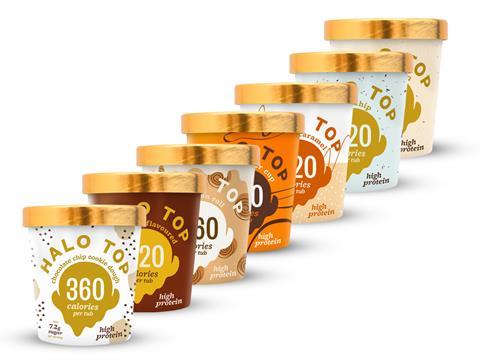 Seven in 10 young people would eat a whole tub of ice cream in one sitting if it contained fewer than 250 calories, research commissioned by The Grocer has found.
In a poll of 1,971 consumers conducted by research company Harris Interactive, 70% of 18 to 24-year-olds said they would devour a full tub of a low-calorie brand. And 66% of 25 to 34-year-olds said they would do the same.
The percentages fell with age to 61% of 35 to 44-year-olds, 41% of 45 to 54-year-olds and just 30% of over-55s.

The figures suggest there is some truth to fears that the rise of low-calorie ice cream brands could encourage larger portion sizes. Halo Top, which launched in the UK in January with as little as 280 calories per tub, has faced criticism for promoting binge eating with straplines such as 'Stop when you hit the bottom' and 'No bowl, no regrets' on its seals.

Rival brands contain similar amounts of calories. Breyers Delights has just 290 calories in its Smooth Vanilla tub, and Oppo has 370 calories per 500ml in its vanilla flavour.

However, the research found calories were not necessarily the most important factor in choosing an ice cream. When asked for their top three most important factors, only 13% of respondents said calories, while 79% said flavour.