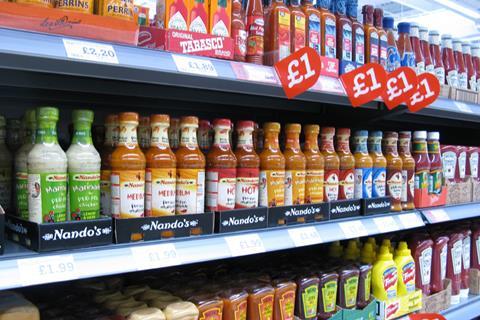 A study by Action on Salt of table sauces, cooking sauces and marinades has found "unnecessary" levels of salt present in many products, with Asian variants the worst offenders.
The review of 357 lines found more than one in two sauces (54%) were high in salt and would receive a red traffic light on front of pack were they obliged to feature nutritional colour coding. Of those with salt targets set by Public Health England for 2017 – such as ketchup, mayonnaise and salad dressing – over a third (38%) still exceeded their recommended maximum.
The saltiest sauces surveyed were Asian, with 88% high in salt. With 80% lacking front of pack colour-coded labelling it was "difficult for the consumer to tell at a glance what the salt levels are", Action on Salt said.
The saltiest sauce surveyed was Blue Dragon Fish Sauce, with 26.7g of salt per 100g. This was "over 10 times the concentration of seawater" according to the campaign group, which is based at Queen Mary University of London. "A tablespoon would provide 4g salt – that's two thirds of an adult's maximum recommended intake for the day, and the equivalent of nearly nine anchovy fillets."
A spokesman for Blue Dragon owner AB World Foods said its Asian-style sauces and marinades were "designed as food ingredients rather than as the main constituent of a meal. On that basis, they are used in small quantities to flavour a range of different dishes. All of our products are clearly labelled with nutritional information, including salt content, and are designed to be enjoyed in moderation as part of a balanced diet."
He added that fish sauce was "a traditional south-east Asian food ingredient that is commonly used as a salt replacement. Typically, only a small amount of fish sauce is added to a recipe for depth of flavour."
In table sauces – including mayo, hot sauce, tomato ketchup and BBQ sauce – nearly half (44%) were considered by Action on Salt to be high in salt at more than 1.5g per 100g. Hot sauces were found to be the saltiest, with Franks RedHot Original Cayenne Pepper Sauce singled out for its 8.4g per 100g. The Grocer has approached Franks RedHot for comment.
Of sauces suitable for marinating, 58% were high in salt and the remainder were worthy of an amber traffic light. One of the saltiest was Nando's Peri-Peri Sauce with 2.2g per 100g. Only seven marinades had colour-coded labels.
The products studied were "cupboard staples, but we are unknowingly adding vast amounts of salt to our already salty foods", said Action on Salt campaign manager Sonia Pombo.
"The message to the government is very clear: set robust salt targets for 2020, which will drive reformulation. This should also include mandatory targets for the main contributors of salt in UK diet so that everyone's health benefits, including the socially deprived.
"Mandated colour-coded front of pack labelling should also be implemented immediately so consumers can make healthier, more informed choices."