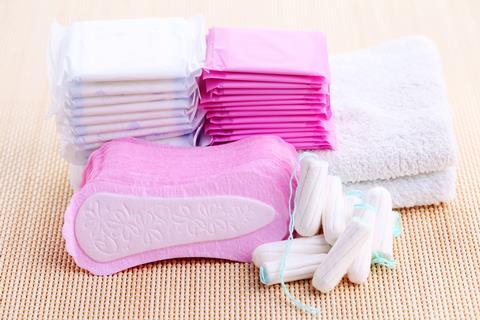 Prices of supermarket own-label period products have risen by as much as 57% in recent days – as legislative changes in Scotland make menstrual hygiene items free for all.
Own-label tampons and sanitary towels have risen in price in Asda, Sainsbury's and Morrisons, according to research by The Grocer using Assosia data.
Asda's Regular Non-Applicator Tampons 32pk, Super Non-Applicator Tampons 32pk and Super+ Non-Applicator Tampons 24pk rose from 70p to £1.10 on 11 August – representing a 57.1% price increase.
In Morrisons, five of its own-label sanitary towel SKUs rose by 15.4% from 65p to 75p on 10 August. Three of its own-label tampon SKUs rose 13.3% from 75p to 85p.
Six of Sainsbury's own-label tampon SKUs rose from £1 to £1.10 on 21 June, representing a 10% increase. And four of the retailer's sanitary towel SKUs rose from 75p to 80p on 17 June – equating to a 6.7% hike in price.
According to Assosia, almost a third (32.5%) of what were the 40 cheapest sanitary towel and tampon SKUs available in the big four have risen in price since 30 May.
A spokesman for Asda said: "We sell a range of period products to suit all budgets with prices starting at 49p for towels and 69p for tampons."
"Due to a significant increase in production costs during the last 12 months, we have had to re-align the price of a small number of period products in our range."
A spokeswoman for Sainsbury's said it was "investing over half a billion pounds to keep prices low on the items people buy most often", adding that its sanitary products were "a good example of this".
"While prices can go up and down for a range of reasons, we're committed to offering great choice and value," she added.
The Grocer has approached Morrisons for comment.
Tina Leslie, founder of charity Freedom4Girls, said there was "a massive issue around period poverty in the UK".
People were "having to think twice" about donating period products through the charity due to the cost of living crisis, she said.
This week, Scotland became the first country in the world to make period products free for all in public settings.