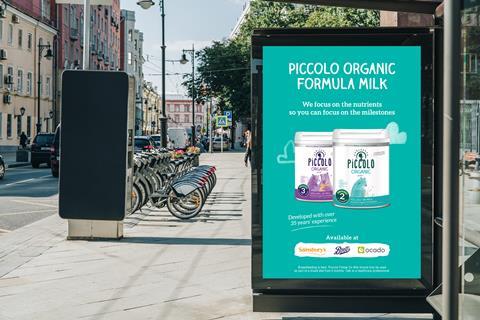 Babyfood pioneer Piccolo is mounting its first-ever out-of-home and TV marketing push for its recently launched 'Truly Organic' baby formula.
It has created a TV spot billed as showing "a variety of different family constructs representative of the UK, as well as including both bottle feeding and breastfeeding", said Piccolo. "By doing this, the advert powerfully combats the notion that there is a right way to parent," the brand added.
"We wanted something more upbeat and current that resonates with our audience, to celebrate diversity and to convey a clear message that parenting is personal, an idea which is emphasised by saying 'It's up to you and no one else how to feed your baby'," said Piccolo co-founder Kane O'Flaherty.
Out-of-home ads, meanwhile, will roll out at locations such as bus stops in Brighton, Hove, Ealing and Milton Keynes, near train stations.
Piccolo launched into the baby formula category in February with a range of upmarket milks. It said it wanted to use the new ads to "instil a sense of trust and credibility in a sector which has typically been dominated by larger, established brands".
They mark just one in a series of big moves from the brand so far this year: in April, Piccolo unveiled what it claimed was Europe's first 100% recyclable babyfood pouch, which is made from a single layer of polypropylene, while its spouts and caps are made from high-density polyethylene.
A new ambient yoghurt pouch followed, which was billed as having a significantly higher yoghurt content than competitors on the market.