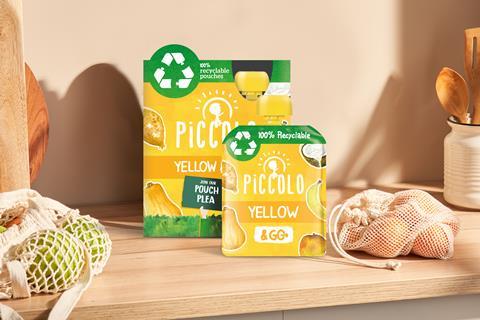 Piccolo has created what it claims is Europe's first 100% recyclable babyfood pouch.
The brand's new pouches are made with a single layer of polypropylene, while their spouts and caps are made from high-density polyethylene.
The packs will roll out with a new flavour – called Yellow & Go – over coming months, which will launch exclusively with an as-yet-unnamed retailer. There will be no difference in price compared to other Piccolo SKUs.
Founder Cat Gazzoli said she hoped to roll the packs out across Piccolo's portfolio eventually.
As it stands, only certain UK councils currently recycle polypropylene.
However Gazzoli said the brand would launch a campaign in partnership with the major retailer this summer "which will endeavour to educate consumers on recycling and empower them to become the engine of change to improve recycling in the UK".
"We hope consumers will help us push government," said Gazzoli. "Nothing happens to a lot of pouches because you can't recycle them as part of your day to day."
Other babyfood brands have launched recycling schemes, but because babyfood pouches contain aluminium as well as plastic, these generally require shoppers to return the pouches separately after use or send them off for specialist processing.
Sir Jonathon Porritt, long-standing investor and sustainability advisor to Piccolo, said the move "shows the company's commitment to future generations".
It's the latest in a series of major moves from the brand over recent months: February saw Piccolo launch into the baby formula category with a trio of upmarket, organic baby milks, while in October 2019 it rolled out the UK's first bio-based pouches across its Piccolo Pure and multipack ranges.