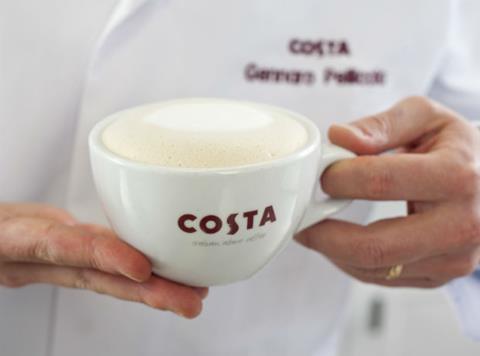 Costa is giving away free coffees in exchange for takeaway coffee cups from other food-to-go outlets to promote its coffee quality.

The giveaway will take place today in over 2,000 participating stores.

Customers can redeem one primo-sized coffee from Costa's core range, which includes Americanos, lattes, flat whites, cappuccinos, espressos, cortados, and mochas. The promotion does not extend to its express self-service coffee machines or its Proud to Serve outlets.

This comes as part of Costa's #CrimesAgainstCoffee campaign, which it says is about replacing competitors' "mediocre" coffee with its own blend.

"I'm immensely proud of everything Costa has done to raise the standard of coffee across the UK so that everyone can enjoy top-quality coffee experiences. We went through 112 samples to get our unique Mocha Italia blend just right and we slow-roast every single Costa bean right here in the UK, for a smooth, rich taste. Our highly trained baristas then handcraft each and every drink they serve," said Costa UK & Ireland MD Jason Cotta.

"We take issue with average coffee being poured across the nation by other companies, as it's the great British public who suffer from average coffee day in, day out. We've created the coffee swap initiative because we believe each and every customer deserves a great-tasting cup."

This follows the launch of its two-day pop-up coffee bar 'Bean Around The World' in Covent Garden last month, which showcased its most unusual coffee flavours from across the globe.