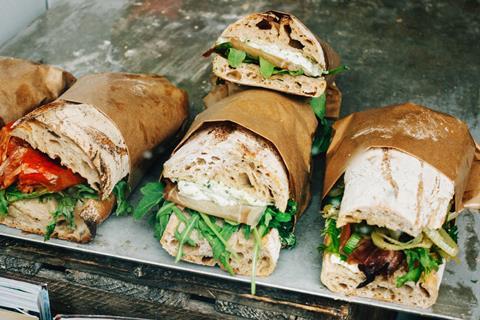 The coronavirus crisis is forecast to wipe £6bn off the food-to-go market in 2020, but new research shows it's set to bounce back over two years.
According to the new Lumina Intelligence UK Food To Go Market Report 2020 Update, the market experienced growth throughout the 2010s.
Lumina Intelligence valued the market at £21.3bn for full year in 2019, a growth of 2.4% from 2018.
But the catastrophic impact of the coronavirus has equated to a decline of 29%, taking the market value to £15bn.
With advice to stay at home, the pandemic restricted movement for most. Many operators were closed for a prolonged period and consumers stayed close to home, with less of a need for food on-the-go.
The report outlined the average number of food-to-go visits per consumer per month dropped 25% year on year, with city centres particularly affected after the number of people working from home in the UK reached a peak of 60%.
Despite a significant reduction in value this year, coffee shops and cafés have been the strongest performers across the market, and in terms of overall share, convenience store grab-and-go dominates the market at a value of £5bn – representing a 33% share of the total market in 2020.
However, the overall food-to-go market is set to recover over the next two years due to its versatility, low contact and value-led proposition.
By the end of 2021, Lumina Intelligence forecasts the market to be worth £21.2bn, just behind 2019 turnover of £21.3bn and a growth of 41% compared with 2020 forecasts.
Then by 2022, food-to-go is set to be worth £21.7bn, surpassing 2019's value worth.
"The sudden shift from a highly transient, on-the-go society, to one with restrictions placed on movement, has had a catastrophic impact on the UK food-to-go market," said Lumina Intelligence head of insight Blonnie Walsh.
"With much of the UK workforce working from home or furloughed, footfall in city centres nosedived.
"However, the sudden setback is not expected to last. The food-to-go market is forecast to grow by over 40% in 2021, returning the market value to around the 2019 level.
"The very nature of food to go, whereby it is not consumed on premise, it is relatively inexpensive and much of the customer base of the major players are already back at work, means the sector is well insulated for a swift recovery."