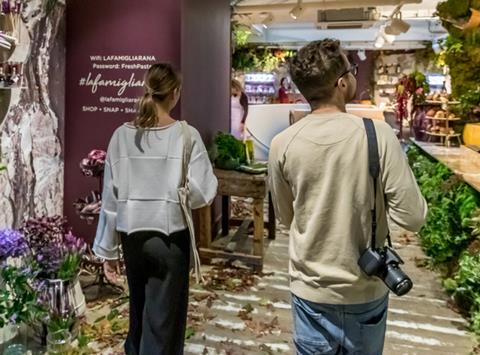 An artisanal Italian pop-up that touts itself as the 'ultimate Instagrammable grocer' has opened in London.

Over the next five weeks, La Famiglia Rana Grocer in Marylebone will sell exclusive produce, including capers from the Aeolian Islands, Sicily, and chickpeas from Paestum, Campania.

The shop will also host cooking demonstrations. Italian chefs will advise on how to prepare and plate meals and growers and producers from Italy will also be on hand.
In addition, La Famiglia Rana has partnered with food bank charity FoodCycle to ensure socially isolated people in the community have access to fresh pasta.

All proceeds from its masterclasses and fresh pasta meal kits will be donated to the cause.

The shop has been dubbed 'Instagrammable' due to its tumbling foliage and collection of select artisan produce.

Influencers James Thompson from Food Feels, an Instagram account with 140,000 followers, and Giulia Mulè, who has an audience of 60,300, will also be among the names holding masterclass workshops on topics such as food photography and styling.