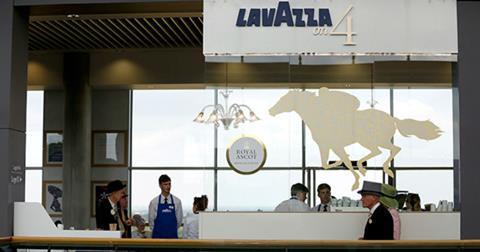 Lavazza is the latest brand to launch experiential marketing with a branded coffee bar at Ascot Racecourse.

Opened in the third year of Lavazza's partnership with Ascot, the new bar plans to offer 650,000 spectators the chance to try Lavazza's Tierra Origins coffee from this month onwards.

The coffee bar, which will include a lounge area, will serve racegoers blends specially selected for Ascot including the Tierra Brasile - a sweet espresso - as well as Tierra Tanzania. Sweet and savoury foods will also be available.

"Lavazza's founder Luigi Lavazza was the artisan roaster of his day, caring about his products, sustainability, provenance, authenticity and - of course - quality," said Lavazza UK managing director David Rogers.

"We are proud to open our Lavazza Tierra Bar at Ascot Racecourse and honoured to partner with an institution that shares the same sense of ethics and responsibility for its role in UK society."

Jonathan Parker, director of food and beverage at Ascot, said: "We are always looking to raise the standard here at Ascot Racecourse, which is something we do time after time with our official coffee supplier Lavazza."

Experiential marketing has become increasingly prevalent among big brands.

In March, PepsiCo revealed that it was looking to create experiential marketing destinations for all of its brands following the success of its New York restaurant, the Kola House.

The organisation's senior vice president Kristin Patrick said brands could no longer afford to simply rely on big-budget TV ads.