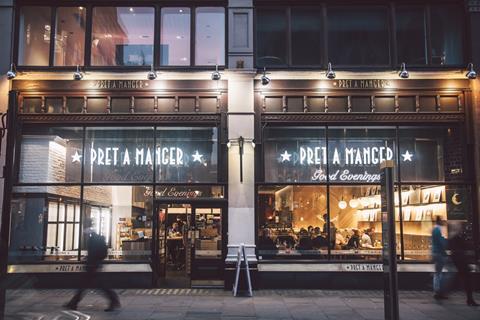 High rental costs and dramatically lower footfall caused by the lockdown have put the chain under "substantial" pressure

Pret is reopening a further 204 shops across the UK this week
Pret a Manger has hired a team of consultants to help refocus its business model as it continues to deal with the consequences of the coronavirus pandemic.
High rental costs and dramatically lower footfall put the fast food chain under "substantial" pressure as the nation went into lockdown.
The business is now seeking different ways of operating in the "new retail environment" as its core customer base of commuters continue to work from home.
Pret, which is owned by JAB Holding, has appointed Alvarez & Marsal and CWM to advise on aspects of a "comprehensive transformation plan" and examine how to overhaul the old business model.
"Like the rest of the industry, we have been radically adapting our business model to succeed in the face of the changing market conditions," said CEO Pano Christou.
This week, Pret is reopening a further 204 shops across the UK, with a limited menu available for takeaway and delivery.
It takes the total number of reopened shops to more than 300, with Pret having to undertake a major review of how it operates and bring in new safety and social distancing measures to comply with government Covid-19 guidelines.
Pret also launched its first retail coffee range last month, including three organic coffee products on Amazon UK and in its own shops. Customers can also buy a new 'Heat Me at Home' macaroni cheese range and a selection of 'Heat Me at Home' soups.
The business has also expanded its delivery operation by partnering with Deliveroo, Just Eat and Uber Eats.
Pret said A&M and CWM would focus in particular on the cost base of the business, including "leasehold pressures" in light of the changed market conditions.
Christou added: "We are putting together a clear plan to address these issues and are already making good progress, with more than 300 shops up and running again as of next week.
"While Pret may look and feel a bit different in the short term, if we take the right steps today, we'll make sure Pret can thrive in the future and serve even more customers with great food and coffee."
Pret also this morning launched its biggest-ever coffee promotion to entice customers back into shops, with a card giving them 20 organic coffees for £20.