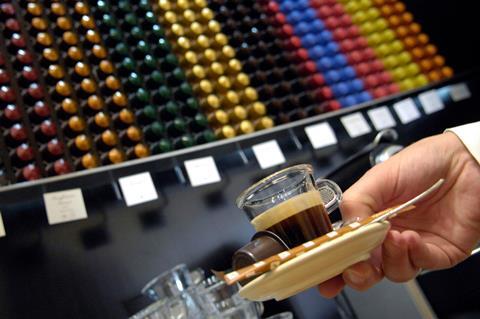 Nestlé is to launch a new recycling scheme for its Dolce Gusto and Nespresso coffee capsules, The Grocer can exclusively reveal.
The scheme, called Podback, will offer "a combined solution" for consumer recycling of both Nescafé Dolce Gusto and Nespresso capsules.
While the exact logistics of Podback are yet to be revealed, Nestlé told The Grocer the combined solution would "require collected pods (a combination of plastics, aluminium and coffee) are separated and then processed separately after collection".
Despite the "relative success" of its existing recycling schemes, recycling rates for portioned beverage pods in the UK "still need to improve", said a Nestlé spokesman.
The brand was "actively looking at ways of achieving this", and had already completed two separate kerbside trials for the capsules, he added.
The Nespresso trial took place in the Royal Borough of Kensington and Chelsea, covering 90,850 households, and offering a bi-weekly co-mingled collection in partnership with Suez and Tandom. The Nescafé Dolce Gusto kerbside trial was in Bracknell Forest and covered a total of 48,786 households with fortnightly co-mingled collection in partnership with Suez and TerraCycle.
Podback was "still in the early stages" and Nestlé "hoped to be able to provide more detail later in the year".
"In the meantime, we would encourage all our customers to continue using the recycling schemes we already have in place," it said.
Both brands are currently recyclable by collecting the capsules in a plastic bag and taking them to a drop-off point. Nespresso capsules can also be taken to Nespresso boutiques as well as to over 7,500 CollectPlus and Doddle locations, while Dolce Gusto capsules can only be taken to CollectPlus.