This article is part of our Digital Feature on Household.
Cleaning is a chore, one which many people do out of necessity rather than pleasure (unless you are Hyacinth Bucket, sorry Bouquet). One third of Brits say getting someone else to do the cleaning would mean it gets done more often, whereas 21% claim products that make the job easier would see them whip out their marigolds on a more regular basis [Harris Interactive].
Top Household Brands
VALUE
All household
£m
y-o-y %
2921.1
1.2
Fairy
306.7
-0.2
Persil
243.9
3.5
Ariel
179.6
-0.7
Comfort
168.2
19.7
Lenor
135.3
2.4
Finish
130.4
-0.4
Surf
124.3
0.3
Bold
123.2
-2.9
Airwick
106.0
1.3
Despite this, the category's sales have increased by 2.8% on volumes up 0.6% [Kantar 52 w/e 1 March 2015]. So, what's driving this growth? And are brands tapping into consumers' need for more convenient products?
"Shoppers continue to seek products which make their lives easy with strong cleaning power, boast anti-bacterial and hygienic solutions, but more than ever they want to be wowed by innovation and new news," says Trang Pham, Brand Manager for Domestos at Unilever UK. Tapping into this need, Unilever expanded its Domestos rimblock toilet range in February 2015 with a product that it describes as offering five cleaning benefits.
Unilever offered further innovation in the form of Persil Dual Action Capsules, which have generated £40.5m for the brand [Kantar 52 w/e 1 March 2015]. This helped boost the overall brand's performance by 3.5% to £243.9m [IRI 52 w/e 21 March 2015].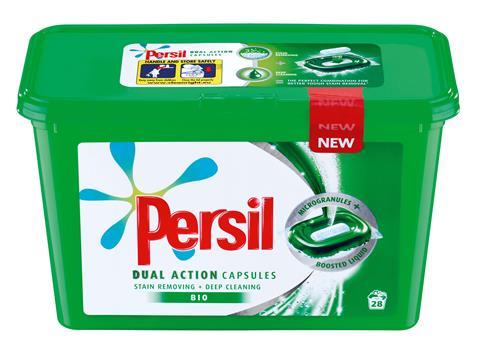 P&G also found liquitabs to be successful as they generated £59.7m for the Ariel brand [Kantar]. "We find consumers are increasingly looking for more convenient laundry solutions which take up less space at home and do the job very simply we have seen a huge growth in the liquitab segment," says Ian Morley, commercial director at P&G. "If we look at the Ariel 3-in-1 product, which was launched over a year ago, we are now seeing over 50% of people coming back and repeating on it. It continues to show us why at P&G our future innovation is very much focused towards driving liquitabs as we do see this as the laundry format of the future."
So confident is P&G in the 3-in-1 liquitab format, it is rolling it out across the rest of the P&G laundry range, including Bold, Daz and Fairy products. "They will be backed up by strong media campaigns. All of this together, continues to point towards a future of a laundry category that is driven by wet products and further ongoing decline of the traditional dry powder segment," Morley adds.
While P&G hopes the format will offer Bold some much needed growth – value sales fell 2.9% [IRI] – the success of liquitabs for Ariel couldn't save value sales of the brand as a whole from dropping, albeit by a minor 0.7% [IRI].
VALUE
Dishwash
(hand and machine)
£m
y-o-y %
Fairy
193.1
0.2
Finish
130.4
-0.4
Persil
8.6
-31.1
Ecover
8.5
5.4
Clean N Fresh
2.6
-5.6
P&G's hero brand Fairy also suffered minor losses of 0.2% as value sales of its laundry detergent fell by £0.9m. However, the brand clawed some of this back with positive value sales in dishwash [IRI].
This was in contrast to all the other brands in the dishwashing (both hand and machine) top 10, with the exception of Ecover. Persil suffered the biggest loss in this market as sales fell £3.9m while second-biggest player Finish lost £0.6m [IRI].
Looking at the household cleaning market, Flash was the biggest loser as sales fell £8.2m [IRI] despite the launch of two new scents in the Flash Gel range as well as a new format Flash all-purpose cleaner which features a cap that automatically stops pouring after one dose.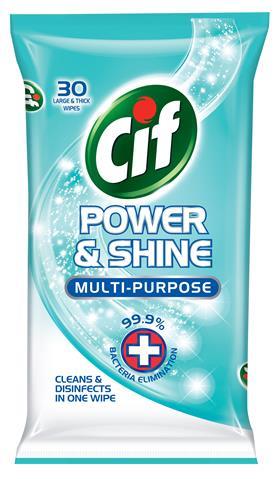 NPD in the form of Mr Muscle Touch-Up cleaner helped the brand secure an extra £3.6m. Meanwhile, Cif attracted new consumers through convenient NPD in the form of Cif Express Direct to Floor and Antibacterial Floor Wipes, with 12.7% of sales coming from shoppers who hadn't purchased wipes the previous year, according to Unilever.
"When you talk to consumers, they talk much more around 'quick' and 'fresh' cleans as opposed to a deeper clean, which often only happens once or twice a fortnight, so a solution which delivers between these more intense cleaning periods, whether it be a wipe or a convenient product such as Cif Direct to Floor, is key," says Pham.
A 2014 rebrand of its Kitchen and Bathroom EasyLift SKU to Cif Power & Shine also contributed significantly to the growth of Cif's sprays portfolio. These factors helped the brand grow by 1.1% in sales on volumes up 1.6% [IRI].
VALUE
Household cleaning
£m
y-o-y %
Dettol
81.9
-0.3
Flash
70.2
-10.4
Mr Muscle
52.9
7.2
Cif
47.1
1.1
Toilet Duck
26.3
-3.7
Minky, the premium homeware and laundry manufacturer, has also had a successful year, according to marketing manager Carol Devins, who notes growth in both the cleaning cloth and scourer categories. "Consumers are still very concerned with the spread of germs and as a result Minky has introduced a number of key products over the past couple of months in order to expand its anti-bacterial range," says Devins. This includes Minky's new antibacterial kitchen clothes, which are treated with silver technology, and a new, improved version of its stain eraser.
At the other end of the scale, discount brand Muvo is out to prove premiumisation isn't everything, having sold in excess of one million units since its launch in 2014.
"The most successful products have definitely been on our core larger formats and this is an area that we really specialise in - our ethos is big value packs, offering the consumer the best quality product at the strongest price point. This is where we feel we strike the right chord for the consumer and where we will focus and continue to grow," says Simon Gunter, managing director of SNG Commercial. "We believe this is due to the rising consumer trend of 'bulk buying' as they realise bigger packs provide them better value for money."
Upcoming NPD for the brand includes Muvo Ultra Triple Concentrate, its 'most powerful' laundry liquid to date. Meanwhile, it will be spending money on marketing combined with in-store promotional work to drive additional purchases in existing outlets as it undertakes discussions with major multiples to launch the brand on a larger scale.
In association with: