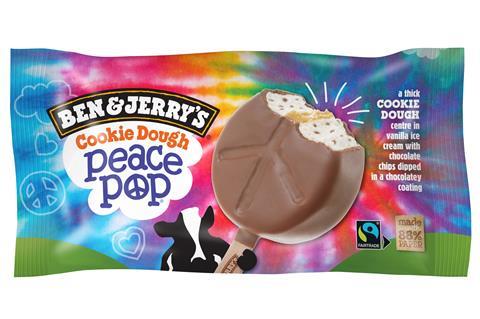 Ben & Jerry's is boosting its Cookie Dough lineup with a new 'Peace Pop' ice cream stick.
Called Cookie Dough Peace Pop, the NPD comprises vanilla ice cream with chocolate chips, a peace-shaped cookie dough-inspired centre and a thick chocolate coating.
Ben & Jerry's originally launched Peace Pops in 1988 to campaign for peace initiatives, and though these were not exactly the same product, UK brand manager Madeleine Boulton said the ice cream activists would "continue to raise a stick for justice and equality today".
The ice cream will sit on a wooden stick and within a "first of its kind" tie-dye wrapper, said the Unilever-owned brand, which is made with 88% paper and "widely recyclable".
The packaging move is part of Unilever's global packaging commitment to halve its use of virgin plastic and ensure all packaging is reusable, recyclable or compostable by 2025.
Cookie Dough Peace Pops will launch at Co-op on 20 January, priced at £2.20 for one 69g stick, or £3.99 for a three-pack.
It is the latest in a string of activism moves by the ice cream brand, which last year launched Cone Together in support of NGOs across Europe as well as renaming its plant-based Coconutterly Caramel'd to Save Our Swirled Now in a bid to raise awareness of climate change.
In August last year, it hit headlines for a Twitter thread challenging home secretary Priti Patel over her comments on refugees coming to Britain across the English Channel.