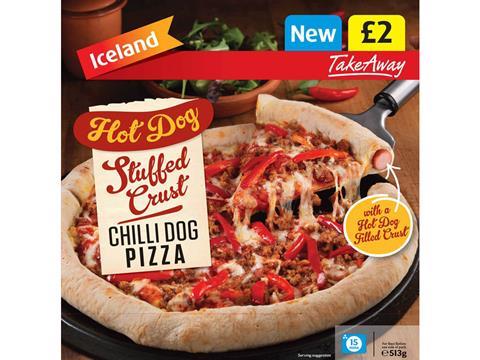 Iceland has claimed it is matching the quality of takeaway pizza chains but at "substantially lower prices" with the launch of its own hot dog stuffed crust pizza.
The frozen Chilli Dog pizza retails for £2 and is thought to be a UK supermarket first. It is produced by German supplier Freiberger, The Grocer understands.
The hot dog stuffed crust pizza was first unleashed on British shores by Pizza Hut back in 2012.
Its rival Domino's, which also offers the high-calorie item, said the launch of the product was key to a 6% boost in first-quarter sales last year.
"As the name suggests, the Chilli Dog pizza is inspired by takeaway products but it is designed to appeal to those who like to enjoy this type of pizza in their homes," said an Iceland spokesman. "We are offering them at the same high quality but at a substantially lower price."
Asda will launch its own hot dog stuffed crust pizza within the next two weeks. The Grocer understands it will retail for £3.50.