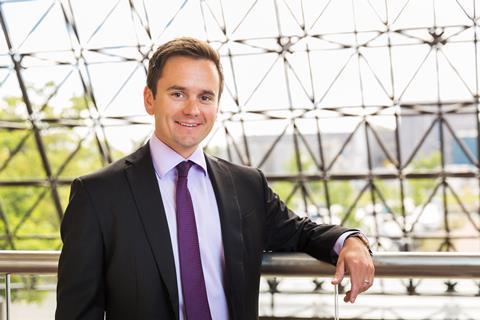 Iceland MD Richard Walker has called for the minimum isolation period after testing positive for coronavirus to be reduced to help businesses cope with absences amid the Omicron outbreak.
Iceland absences have risen more than 70% in a week, from 1,000 to over 1,700, Walker said. The supermarket has a workforce of about 30,000.
Since 22 December the minimum isolation period in England, Wales and Northern Ireland has been seven days, instead of 10, subject to two negative lateral flow test results at least 24 hours apart on days six and seven. Those leaving isolation on day seven are also advised to limit close contact with people in crowded spaces.
"Our Covid absences have risen by almost 700 [week on week], now at over 1,700," Walker said in a tweet yesterday. "It would be very helpful to business if the isolation period was cut."
Our Covid absences have risen by almost 700 w-o-w, now at over 1,700. It would be very helpful to business if the isolation period was cut.

— Richard Walker (@icelandrichard) January 3, 2022
Record cases of the Omicron variant have also led to shortages of lateral flow and PCR tests, with health secretary Sajid Javid last week saying the government will "need to constrain" supplies over the next fortnight, the Financial Times reported.
"The arrival of the Omicron variant has caused record case numbers and unprecedented demand for both PCR and lateral flow device [LFD] tests," Javid wrote to MPs. "This has inevitably placed strain on the testing system, despite the impressive scaling-up of supply, logistics and laboratory capacity.
"We expect to need to constrain the system at certain points over the next two weeks to manage supply over the course of each day, with new tranches of supply released regularly throughout each day."
However, other major supermarkets have yet to back Walker's call for the isolation period to be reduced. "This is a matter that needs to be guided by scientific advisors, not what retailers need," one told The Grocer. "We want the isolation period to be as short as possible but as long as necessary."
Another said its absence rate stood at about 5% to 6%, and while it was expected to rise this week, with some regions worse hit than others, it was still less than half the peak seen at the height of the so-called 'pingdemic' last summer. A spokesman said it would welcome the isolation period being standardised to a week across all four nations of the UK. In Scotland the limit remains 10 days.
He added that government needed to prioritise the availability of lateral flow tests.
Waitrose said it was asking staff to follow government recommendations on isolation. "Our absences are tracking in line with the national trend - but all shops are operational," a spokeswoman added.
Another supermarket said absence rates were not currently affecting its operations, but it was monitoring the situation closely as cases continued to rise across the UK. A spokesman said it had plans in place to deal with any increase.
Booths said delays to PCR test results were impacting absence rates.
"Booths in line with other retailers and employers have seen a lift in absence rates, but these absences are manageable and numbers are starting to reduce," said a spokeswoman.
"Booths have good stocks of lateral flow tests, but there are some delays in PCR test results which have a direct impact [on] absence rates."
She said staff continued to follow government guidelines, with their safety and that of staff the company's priority.
The BRC said it was not currently calling for a reduction to the isolation period.