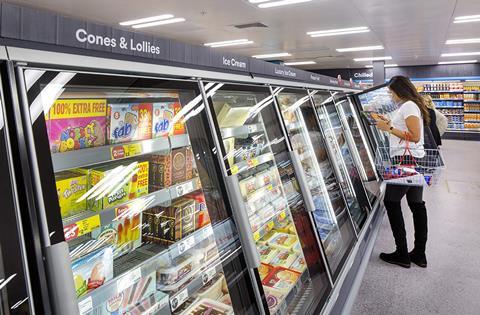 Iceland is introducing more than 550 new or improved products in what the frozen food specialist is calling its biggest ever own-brand shake-up.

The new or improved lines, rolling out from today, account for 53% of Iceland's frozen range and have been prompted by "unrivalled growth in the frozen category", according to an Iceland spokesman. A recent category report by The Grocer revealed frozen had seen a 3.4% value jump in 12 months to £6.3bn [Kantar 52 w/e 27 January 2019].

Iceland's own-brand revamp also followed "in-depth analysis of market trends, social media and sales," the spokesman added.

As well as the 550 new or improved lines, Iceland is also to offer 500 new "limited edition" products over the next 12 months on a "when it's gone, it's gone" basis, the spokesman said. That move followed the "success that Iceland has experienced from its previous limited products, such as the supermarket's Halloumi Burger, and reflects an investment of around £2m in innovation".

Brand new products, informed by customer product reviews, include Thin & Crispy Southern Spiced Chicken Pizza, Ridiculously Crispy Crinkle Cut Chips and Lemon & Herb Tempura Basa Skinless Boneless Fillets.

Limited edition lines are to include Stilton Pie, Frozen Pomegranate Seeds and Salt & Pepper Chips.

"In response to the increase in demand for frozen food we are proud to be launching our biggest ever range of new and improved own-label products and giving customers even more of what they want," said Iceland director of frozen Andrew Staniland.

"We undertook an intensive research project, analysing our customer feedback and reviewing our product recipes to challenge each one, and we're proud and confident that our new recipes and products will respond to customer trends.

"This latest range embraces the benefits of frozen food and is based on trends, customer opinion and optimised recipes. It is our biggest launch to date and definitely the most ambitious frozen food range in UK supermarkets.

"We know our customers like to try new and exclusive products and the limited edition range ensures we have a constant stream of exciting new launches. The range will tie into key seasonal moments such as Halloween, and is also driven by restaurant, street food, takeaway and social media food trends. Customers will need to act quickly to try our latest products though, as once they're gone they're gone for good."

Iceland head chef David Lennox said: "Over the course of the last year we've looked in detail at every one of our own-label products and really scrutinised the range. We've worked hard in the development kitchen to revamp recipes and create brand new products based on customer feedback.

"We're excited for the upcoming launch of the 550 new and improved products. It's a testament to both our food development team and our loyal customers and we're confident this is our best frozen range ever."

Separately, Iceland today announced a new Italian range in collaboration with celebrity chef Gino D'Acampo, including pizzas, pasta and desserts.

"I chose to launch my new frozen range of products in Iceland because I wanted as many people as possible to have the opportunity to try my range," said D'Acampo.