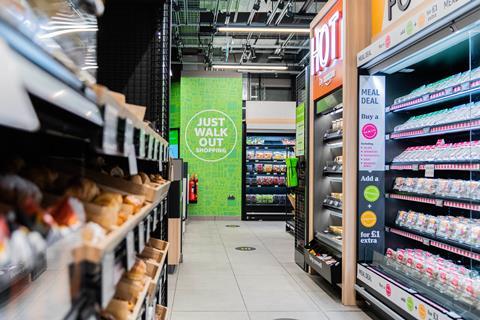 The RMT Union, backed by rail users' organisations and charities, has mounted a highly effective campaign against the closure of station ticket offices.
Their slogan – 'People prefer people' – captions pictures of passengers up and down the land who would rather queue to speak to a real person who can answer their questions, and find them the lowest fares, than brave phalanxes of ticket machines that are incomprehensible and/or out of order.

We need a similar campaign against the supermarket push to force customers into cashier-less stores.
Aldi's Shop & Go store in Greenwich offers a chilling glimpse of this soulless vision for our food shopping future. To use this store you must be proficient with a smartphone, able to download the app, and willing to disclose your name, email address and phone number, in order to get a QR code to buy anything.
Once inside, your every move is followed using artificial intelligence biometrics, CCTV cameras, and sensors, Big Brother Watch reported last month. Such Stasi-like overkill when all you want is milk!
Replacing people with machines lets retailers reduce their wage bill and harvest data on customers' shopping behaviour. Yet this drive to dehumanise food retailing is coyly sugar-coated by Brave New Worlders as inevitable and efficient, posing only a residual problem for 'digitally excluded' (mainly elderly) shoppers.
But it's not just senior citizens who thrive on the human touch. The disabling social awkwardness, sense of isolation, and low mood that haunts younger generations is not unconnected with the fact that they no longer have to speak to a real person to do anything.
I rarely shop in supermarkets, and when I do I am struck by just what unpleasant, snooping, and alienating shopping environments they have become. Rarely even the prospect of a "hello" at the checkout.
Such small human interactions really matter. I'm on first-name terms with my greengrocers, Danny and Leo, my butchers Will and Craig, and Ceri and Heather who run the local refill store. Other traders I acknowledge with a smile, and vice versa. They know their stuff, and I positively enjoy shopping with them. These people make me feel part of a local community.
Whereas in supermarkets, I lose the will to live.